FORT KNOX, Ky. – Cadets from 7th Regiment, Advanced Camp, completed the Chemical, Biological, Radiological, Nuclear training at Fort Knox, Ky., July 14, 2023.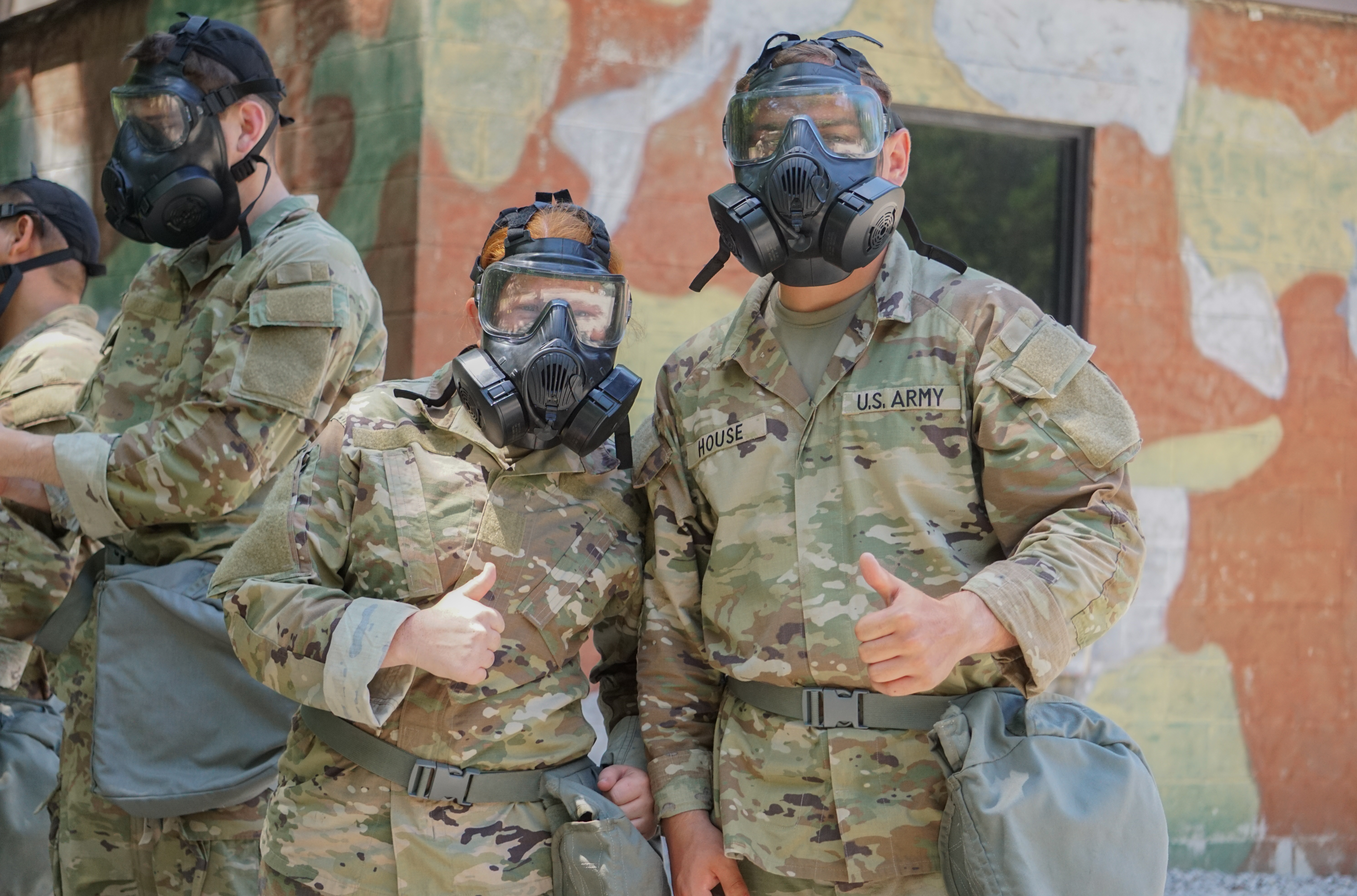 During the CBRN training, Cadets learned how to properly use their protective gear before entering the confidence chamber, which is filled with 2-chlorobenzylidene malononitrile.
The purpose of the training is to teach Cadets how to react whenever they are caught in a situation with CS gas and how to react to it.
Upon arrival there were classes set up for each squad to learn about CBRN.
This was Cadet Clayton House from Texas A&M University's first experience with CBRN training and he mentioned what he learned during the class.
"We learned how to put on our mask in the standard time of nine seconds, as well as any potential contaminants that are in the masks," House said.
During the class, Cadets had the opportunity to see gas paper.
"The gas paper was an identification method for different types of gas," House said. "Based on what gas it is, the paper will turn a different color which lets you know what kind of contaminant you're around."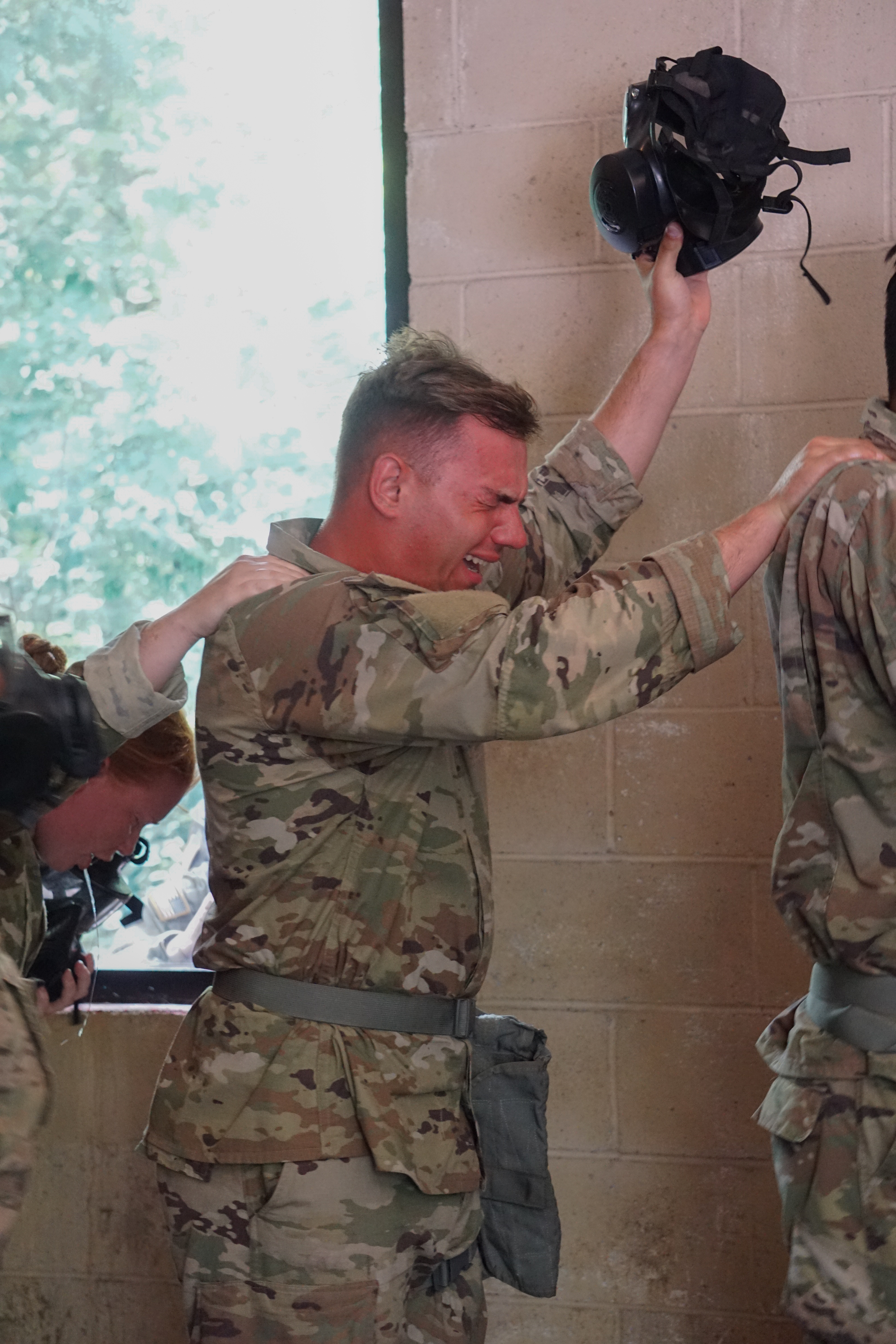 After the class, Cadets headed to the confidence chamber to experience the CS gas.
"There's a decent chance that [the gas] doesn't bother me that much," House said, mentioning his thoughts prior to entering the chamber.
Cadets stand outside of the confidence chamber, they put on their protective gear in under nine seconds, and head inside. While inside, Cadre had Cadets run in place and sing the Army song in order to get their heart rates up before taking off their masks.
"Everything burned when I came out and I couldn't really breathe without snot coming out," House said, mentioning his thoughts inside of the confidence chamber.
Cadets exited the confidence chamber, by facing left toward the exit door and putting their right hand on top of their battle buddy's shoulder. Then they walked out in a file as quickly as possible. 
"Trust the equipment that they give you and learn the proper techniques, otherwise it won't burn as bad," House said, mentioning what he learned while experiencing this.
Many Cadets would not want to experience being inside of the confidence chamber again but that is not the same for House. House mentioned why he would 100% do it again.
"Getting to see people who didn't take off their mask properly, they were burning a lot quicker than everyone else. It's definitely interesting to see if you do the technique right versus if you don't do it correctly, how different your reaction is," House said. "I enjoyed stuff like this, the misery sucks, but it's fun in the end."
Cadet Katie Mcmenamin from the University of South Carolina was standing right by House experiencing the confidence chamber.
"At first, I was super nervous and then I got really excited. Then as we were going into the chamber, I was super nervous again," Mcmenamin said.
Mcmenamin mentioned what she learned during the CBRN training. 
"I learned to lean on my battle buddies more, being next to two of my best friends that I met 15 days ago," Mcmenamin said. "It was awesome to follow them and lean on them to get through it."
Next time you are facing your fears, make sure you have a battle buddy standing right by your side as Mcmenamin did. 
"I probably would go through it again with a good battle buddy," Mcmenamin said.
Recent Photos
Recent Tweets