FORT KNOX, Ky., – Cadets from the 2nd Regiment, Advanced Camp, spent the day completing the engagement skills trainer exercise in Fort Knox, Ky., June 11, 2023. The EST is a simulated rifle qualification table.
U.S. Army Master Sgt. Robert Points, senior military science instructor at Truman State University, explains the importance of EST training.
"Some of these Cadets don't have the opportunity to handle weapons as much," Points said. "The engagement skills trainer is a cheap and easy way that they can learn to handle those weapons systems and practice fundamentals without having to spend ammunition and time on getting the rounds."
This training is important for Cadets that might not be experienced with shooting an M4 rifle.
Cadet Erik Naumann, James Madison University, is one Cadet who found the importance in conducting the EST exercise.
"You get to kind of visualize the target and understand your positions and get comfortable with everything before you actually do it when it counts," Naumann said.
Prior to the qualification training course, Cadets will practice magazine changes, body positions, and stability with a rifle.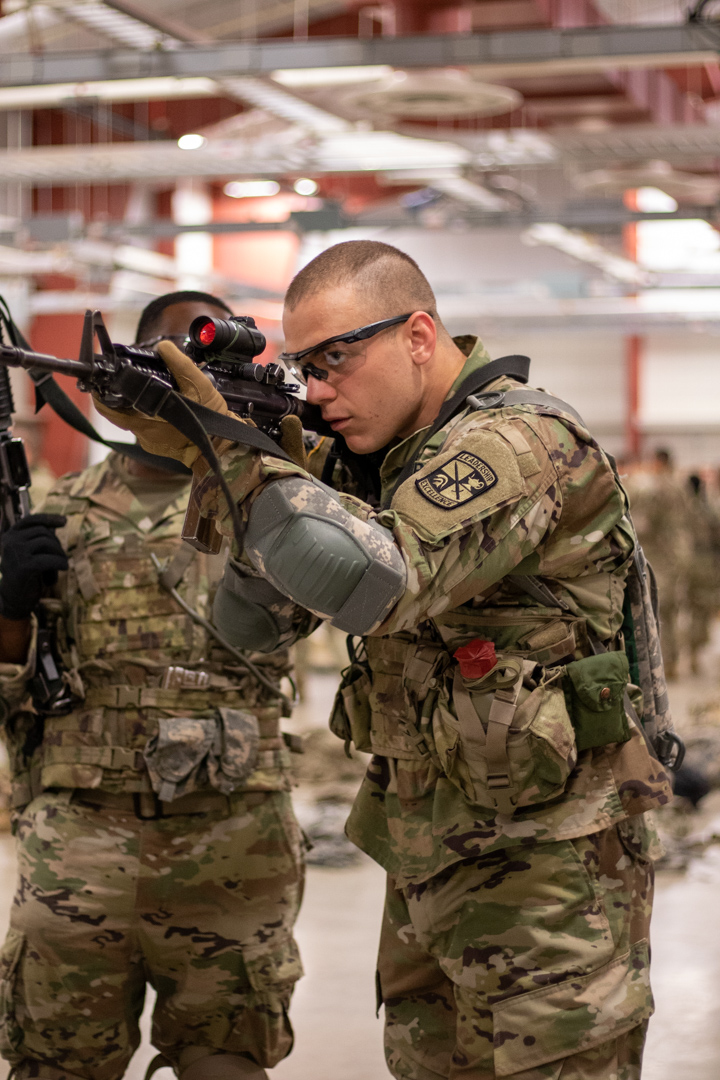 When asked how he feels after completing EST training, Cadet Connor Morton, Penn State University, enthusiastically responded.
"I did really well on the qualification course [EST]," Morton said. "I'm happy about that and being able to spend time with my squad."
These Cadets have two more training events with their rifles before the qualification range where they will fire for a record score. They must hit a minimum of 23 out of 40 targets to pass.
"They're [Cadets] doing the engagement skills trainer, which is a simulation, and then after that, they will go into group and zero," Points said. "Then, they will confirm their group and zero, and then after that, they will go into the actual qualifications."
The 2nd Regiment is about 20 percent of the way through their Advanced Camp and have many training events to look forward to.
 Cadet Sofia Fagan, Georgetown University, explained what she is looking forward to next.
"For camp, I am looking forward to the field leadership reaction course, as well as the 'T Triple C' [Tactical Combat Casualty Care] and field medicine," Fagan said.
In addition to the FLRC, the Cadets will also head to group and zero on the following day in preparation for the M4 weapon qualification later this week.
Recent Photos
Recent Tweets