FORT KNOX, Ky. – 4th Regiment, Advanced Camp Cadets completed their training on the engagement skills trainer for Cadet Summer Training, Fort Knox, Ky., June 23, 2023. 
This training allows Cadets to learn how to handle their weapons properly before they move onto their group and zero training, weapons qualification, and their battle march and shoot. 
"Well, today we're doing EST, the electric range, so we went out there and we practiced 'dot 40,' we did stage five and stage six, and we're qualifying," said Cadet Joel Frederickson from Missouri University of Science and Technology. "We're getting ready for grouping and zeroing tomorrow."
To qualify during EST, Cadets must score a 23 out of 40, which is the same score they must achieve during their M4 qualification later in CST. 
Frederickson said he felt confident he would qualify because he has completed similar training before and consistently scores above what he needs to qualify. However, some Cadets shared neither his experience nor his confidence. 
"I was actually really nervous because I had never done it before," said Cadet Savannah Ramer, College of Charleston. "But my Cadre, and the sports psychologists here and my battle buddies reassured me that everything would be okay and that if I messed up that I could retry. I just went into it, used the skills that my Cadre have given me, and the tips that the sports psychologist gave me, the breathing methods, and I was actually able to go above and beyond qualifying, so I shot a 32 out of 40."
Both Cadets said the EST is important because it allows them to practice with their weapons before they go onto the live ranges. 
"I haven't had a lot of practice in the past with weapons, so being able to do it in here and go through it before we actually have to go out onto the live range and shoot, gives me a lot more reassurance and the ability to calm myself down and really focus on my movements and make sure they're thorough," Ramer said.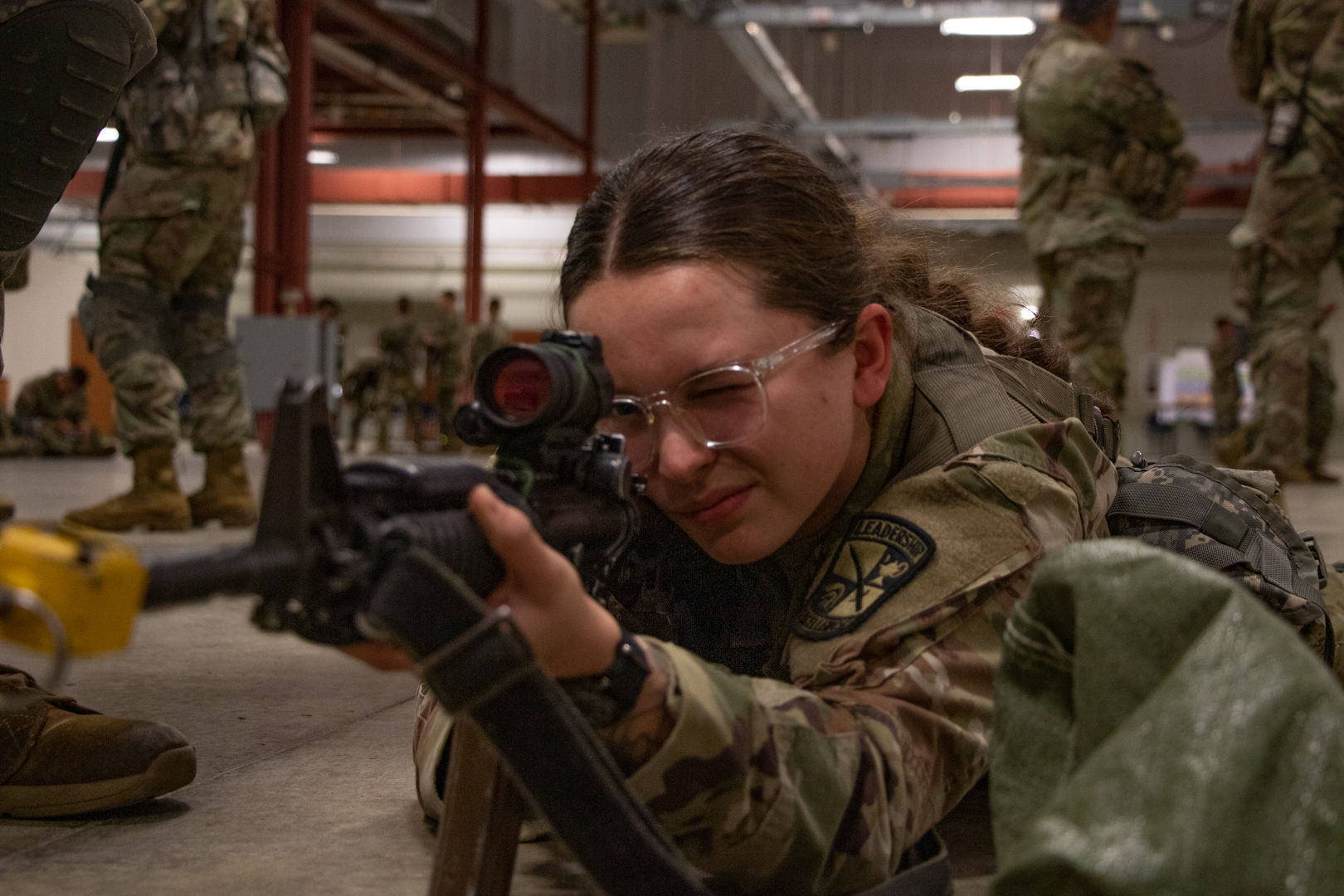 Frederickson emphasized how the EST allows them to correct mistakes safely, before they start live-fire training. 
"If you were to have some really, really bad habits, like maybe you flag someone, flag someone means to point your barrel at someone accidentally, or if you're trying to get into your workspace, and you aren't very careful doing that, you can make those mistakes here," Frederickson said. "You can't make those mistakes on the range with live rounds." 
For many Cadets, the Reserve Officers' Training Corps program offers the opportunity to attend college. Many Cadets join for this reason and because of their family legacies. 
Ramer said her desire to enlist stemmed from her childhood of watching her father serve in the Military. Her father served as an enlisted member of the Navy, before becoming a commissioned Officer in 2017.
"I got to see him through my whole life do that [serve in the Navy], and I thought that it was amazing, that he was fighting for our freedom essentially and also able to be my father," Ramer said.
Her great-grandfather also served in the Army during World War II. Frederickson's family history of service extends back even further. 
"In the Frederickson line, we've had people in every American side of every conflict since the Revolutionary War, so just a huge military background, every male in the past three or four generations have all served, so I'm just doing my part," Frederickson said. 
However, Frederickson said his family history is only part of why he joined ROTC. 
"My biggest purpose here is just because I want to grow as a leader, and I know that I have leadership qualities that I'd like to grow and I'd like to use for the betterment of my country, so that's the biggest reason I'm here," Frederickson said. 
For many Cadets, CST is their longest training prior to commissioning, which Frederickson pointed out while offering advice to fellow Cadets.
"For the future Cadets, just keep on going, CST isn't that big of a thing," Frederickson said. "I know that many Cadets, like myself, have only been in ROTC and they haven't done like simultaneous membership program SMP or they weren't prior service, green to gold or anything like that, so most of us have just been in ROTC for three years and that's it, and haven't done anything longer than like a three day FTX [field training exercise], so the CST 35 days is kind of intimidating."
Frederickson went on to reassure Cadets that despite the intimidation, the training will go well. 
"Once you get here, you're gonna have a great time and the people around you are just as awesome as you are, so you don't have to worry about that and the Cadre are always really awesome too," Fredrickson said. "They know what you're going through. They've been here before, so don't worry about it. And you know, you'll get through it one step at a time."
Ramer also felt nervous about attending CST, so she worked really hard to prepare by scouring the internet, packing appropriately, and practicing ruck marches.
"And I get here and I realize that it is important to worry about making sure that you're prepared, but your Cadre really take care of you here," Ramer said. "You're not going to fail, your Cadre are going to help you, and give you the tools that you need to succeed. And as long as you concentrate and focus on the task at hand, you will succeed."
Recent Photos
Recent Tweets