FORT KNOX, Ky. – Cadets from 1st Regiment, Basic Camp, completed the Team Development Course at Fort Knox, Ky., July 20, 2023.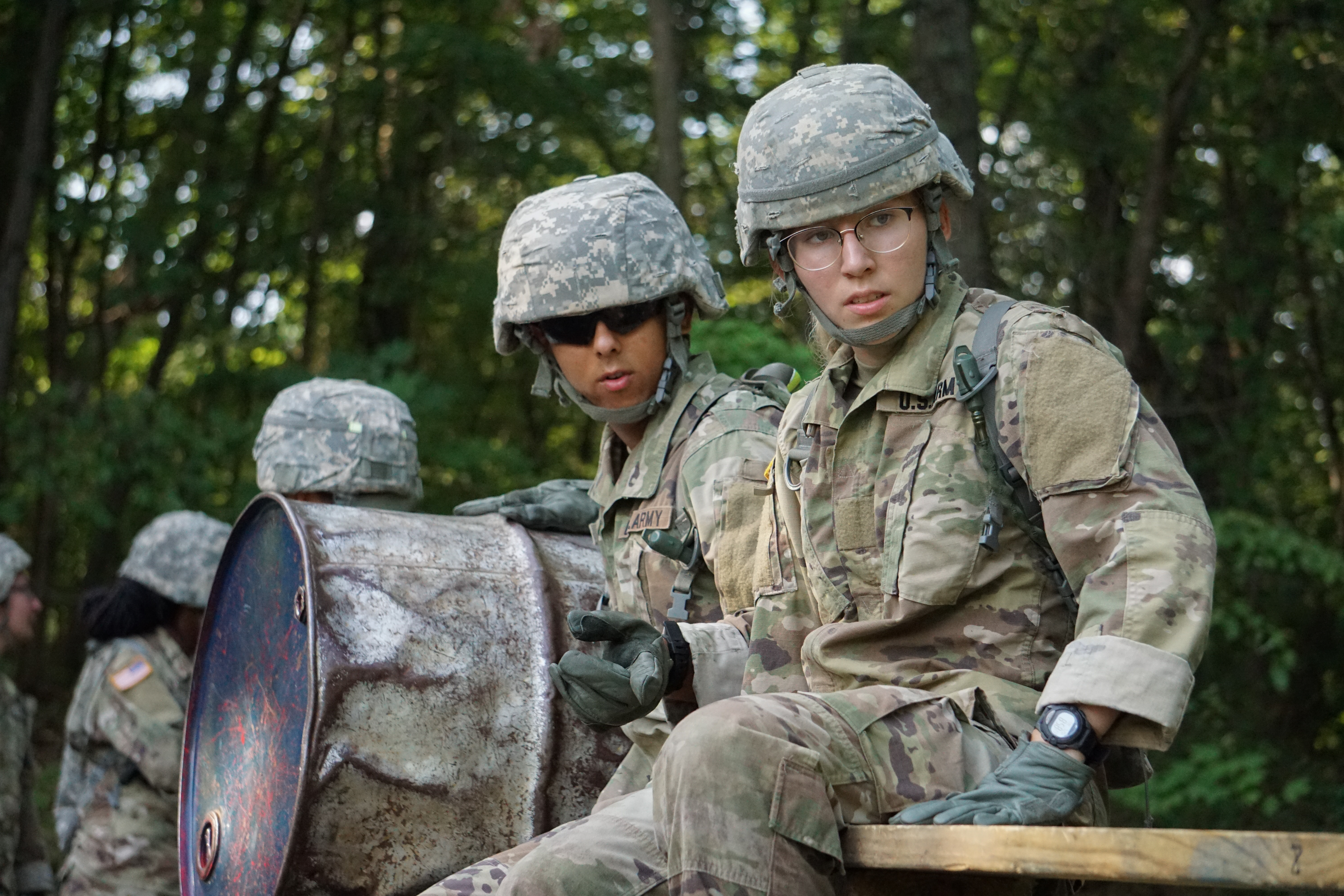 The TDC consists of different obstacles that are designed to mentally and physically challenge Cadets. They must learn to critically think, solve problems, and work together as a team to find the solutions to the obstacles.
Cadet Caitlyn Devaney from Georgia Military College trained on the PBT Hang Garner's Bridge obstacle. This obstacle consisted of a destroyed bridge where Cadets were provided three wood planks to build a bridge on top of the posts in order to send their team over. The black gravel on the ground acted as the river and if they fell into the river, they became casualties.
Devaney, squad leader, mentioned her thought process while in the middle of training on the obstacle.
"I have a fear of heights, and walking across the boards freaked me out," Devaney said. "I'm very self aware of my own physical capabilities and I know that with my own strength alone, I could not hold that board up, but a big thing for me was ensuring that I had somebody who was strong next to me to help me hoist that board up until it was able to reach that post."
Cadets have ten minutes to plan and twenty minutes to execute the plan, Devaney was able to get two of her two team members on the bridge with her in that time frame.
"We did not make it all the way through," Devaney said. "I felt as though if we had more time, then we would have been able to readjust ourselves, but being that there were eleven people and three boards when we had to go across [with only] four positions with a barrel. It was just a bit too chaotic at the start."
Some Cadets are able to complete the course and some Cadets are not. Devaney's team was not able to complete the obstacle, but looked at it in a positive way.
"My team did well. I felt that we were able to start getting multiple voices involved and we were able to do our best in regards to trial and error," Devaney said. "Even though we did not make it within the 20 minute time limit, we had our ideas straightened out, and if we were allotted more time then we would have made it across."
If you have not trained on the PBT Hand Garner's Bridge obstacle, Devaney has some words of advice for you. 
"Take in consideration every member of your group," Devaney said. "Trust the process because there is no perfect method. Do not panic and trust that you can still get through it."
Cadet Hailee Gray University of Wisconsin La Crosse trained on an obstacle similar to Devaney's called the SGT Yestremski's Crossing.
"There were four black and yellow posts that were slanted, and we had to try to get across with wood planks and a litter," Gray said. "We had two squads combined together as a team and had to send them across without touching the ground [acted as the river] along with all the equipment."
The litter that the Cadets were provided had rescue randy in it, a fake dummy acting as an injured Soldier. 
Gray was not a squad leader for this obstacle, but she did act as a safety to provide the safety of her battle buddies training on top of the obstacle. Watching from the side, she mentioned how this obstacle positively changed her team. 
"[Before] It's been a challenge communicating and respecting each other as a team. [After the obstacle] my team is finally coming together and working with one another," Gray said. 
Gray gave advice for Cadets that have yet to experience training on the SGT Yestremskmi's obstacle. 
"If you think that you can help out in any way possible, go for it," Gray said. "Don't be afraid to give suggestions because those suggestions in the real world, can save someone's life even if it's an input."
Recent Photos
Recent Tweets