FORT KNOX, Ky. – Cadets from 2nd Regiment, Advanced Camp, completed the situation training exercise at Fort Knox, Ky., June 23, 2023. During the situation training exercise, Cadets did a deliberate attack. A deliberate attack is when Cadets destroy or defeat enemy forces, seizes, and secures terrain.
Two Cadets talked about their experience during the situation training exercise. 
Cadet Cleveland Williams from Texas A&M University Central Texas has been an active-duty member of the U.S. Army for four and a half years. His military occupational specialty was an 88M. An 88M is a transport operator. He said that he joined the Reserve Officers' Training Corps to switch over from the enlisted side to the officer side. He also said that he feels like he would have a better impact on the Army being on the officer side.
Cadets entered the patrol base. A patrol base is a location set up for a platoon. They tactically filled the patrol base and set their rucks, loaded their M4 rifles, and applied green and black face paint.
Before the start of the mission, Cadets are assigned leadership roles by Cadre. William was assigned as a squad leader for the deliberate attack. At the start of this mission, Williams mentioned the first thing he did with his squad.
"Making sure my squad was good, making sure that they had all the information they needed, making sure their equipment was up, and making sure that was ready for the mission to fall into their place with the platoon [are ways I prepared the squad]," Williams said.
At the end of the mission, Williams stayed consistent in making sure his squad was together, everyone had their weapons, and the mission was completed. 
During any mission, It can be challenging to keep a positive mindset when things do not go as planned, Williams mentioned what he does to keep the positivity flowing in the air.
"Being in the Army, from active duty, there's a saying we hear all the time. Fake motivation is better than no motivation. I motivate myself a lot, and a lot of times, I look for other people for motivation even if it's fake at times," Williams said. "You always want to keep yourself in a positive state of mind."
While you are a squad leader, you go on a leader's reconnaissance with leadership. A leader's recon consists of everyone in leadership positions and determines the plan of action on the objective area where the opposing forces are.
Before you start the leaders recon, you must leave a five-point contingency plan known as a GOTWA [where I'm going, others I'm taking, time of my return, what to do if I don't return, actions to take if I'm hit or actions to take if you're hit] with your team leader. Williams mentioned what working with his squad has taught him as a leader. 
"Don't be afraid to depend on your team leaders as squad leaders. Delegate down to them, let them handle their people accordingly, back check and make sure you get all the information that's required. So don't be afraid to rely on and trust your team leaders and the person on your team," Williams said. 
Cadet Kyle Sullivan from Virginia Tech said that he joined ROTC because he wanted to do something different after college. 
He said, "I noticed a lot of my peers knew what they wanted to do while I was still trying to figure it out my freshman year. I joined my sophomore year and have been really happy with that decision ever since."
At the start of the mission, some Cadets came in not knowing what to expect from their squad because they are in a stage where this is their first-time training together tactically. Sullivan had high hopes for his squad. 
"I was a squad leader for assault two, and I was pretty confident because I know my squad is really smart, and I had other squad leaders in my platoon for that iteration. We're pretty solid, and we're all on the same page, so I was confident going in, and then at the end, I was pretty satisfied with the outcome," Sullivan said.
It can be challenging at times for Cadets to stay calm during missions with so much going on. If Cadets see their squad leader not calm, that can cause them to panic. Sullivan mentioned what he does to help his squad stay positive.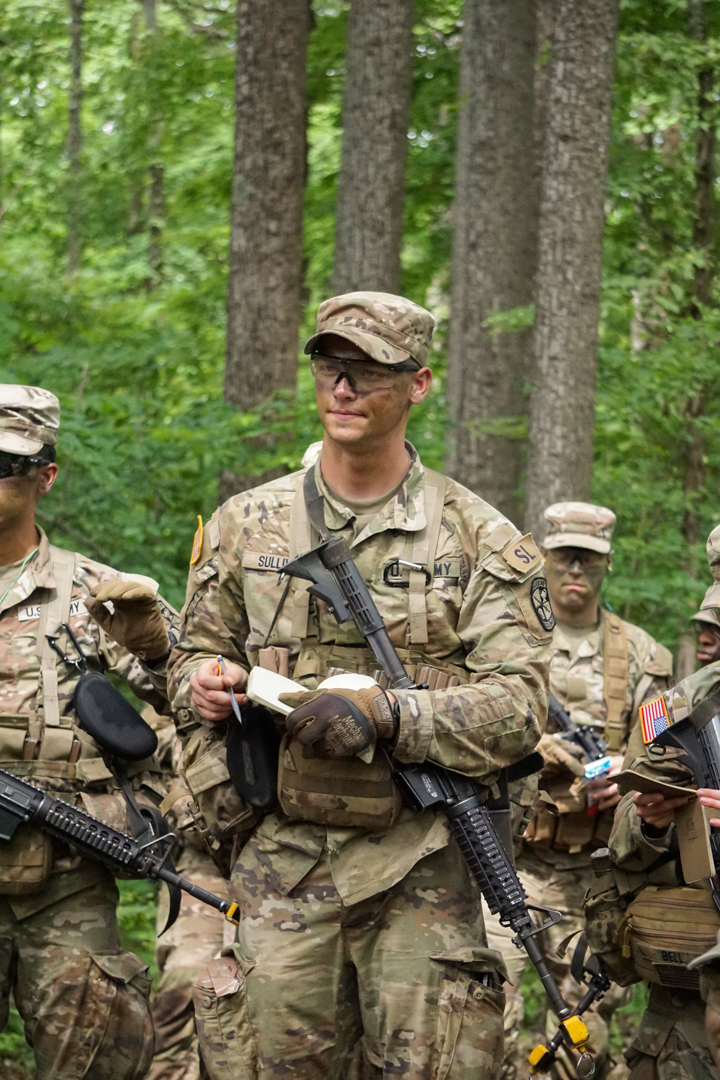 "Sometimes during missions, I noticed myself, I get a little worked up, I'm trying to talk really fast and thinking really fast, but if I can just take a step back like if I noticed I'm about to go brief my team, if I just take a second, think about what I want to say to them, calm down, because if I show that I'm calm to them, they'll be calm, as well. I just do that, and it really helps. I think it just trickled down to them, and then, they don't get nervous."
As a squad leader, your team is watching you and learning from you. Sullivan mentioned what he does to make sure he is having a positive impact on his team.
"Platoon wide communication is key as a leader at all levels of the platoon," Sullivan said. "We need to all be on the same page. I think we did a better job this iteration [the deliberate attack] than our first one and really just for myself, being very vocal, like I'm in that position [as a squad leader], it's my time to shine and just showing that to our team."
Recent Photos
Recent Tweets