FORT KNOX, Ky., – The 3rd Regiment, Advanced Camp Cadets completed their confidence course training for Cadet Summer Training, Fort Knox, Ky., June 16, 2023. 
Cadet Hilda Sanchez from James Madison University said teamwork was important for completing the confidence course. She credited her squad's motivation with helping her finish the training.
"They just kept saying 'Sanchez, you got this, you can do it,'" Sanchez said. "And, I'd be like 'no, I'm too small.' They're like 'no don't even think about it, don't even say you're gonna try, you're gonna do it,' and they just kept motivating me and then, helping me."
Cadet Colin Tibert from Norwich University also mentioned the importance of working as a team. 
"Teamwork is always important," Tibert said. "If you've got a team, teamwork is important. Like the individual events are only individual in the fact that you have to succeed on your own, but your motivation can come from anywhere you need it to." 
The confidence course consists of multiple obstacles designed to challenge Cadets and help them develop confidence in their own abilities. 
The obstacles include actions such as rope climbing, a ladder climb, a low crawl, and more. 
Sanchez said she struggled most with an obstacle called the weaver. This obstacle requires Cadets to weave over and under posts as they maneuver up and down it.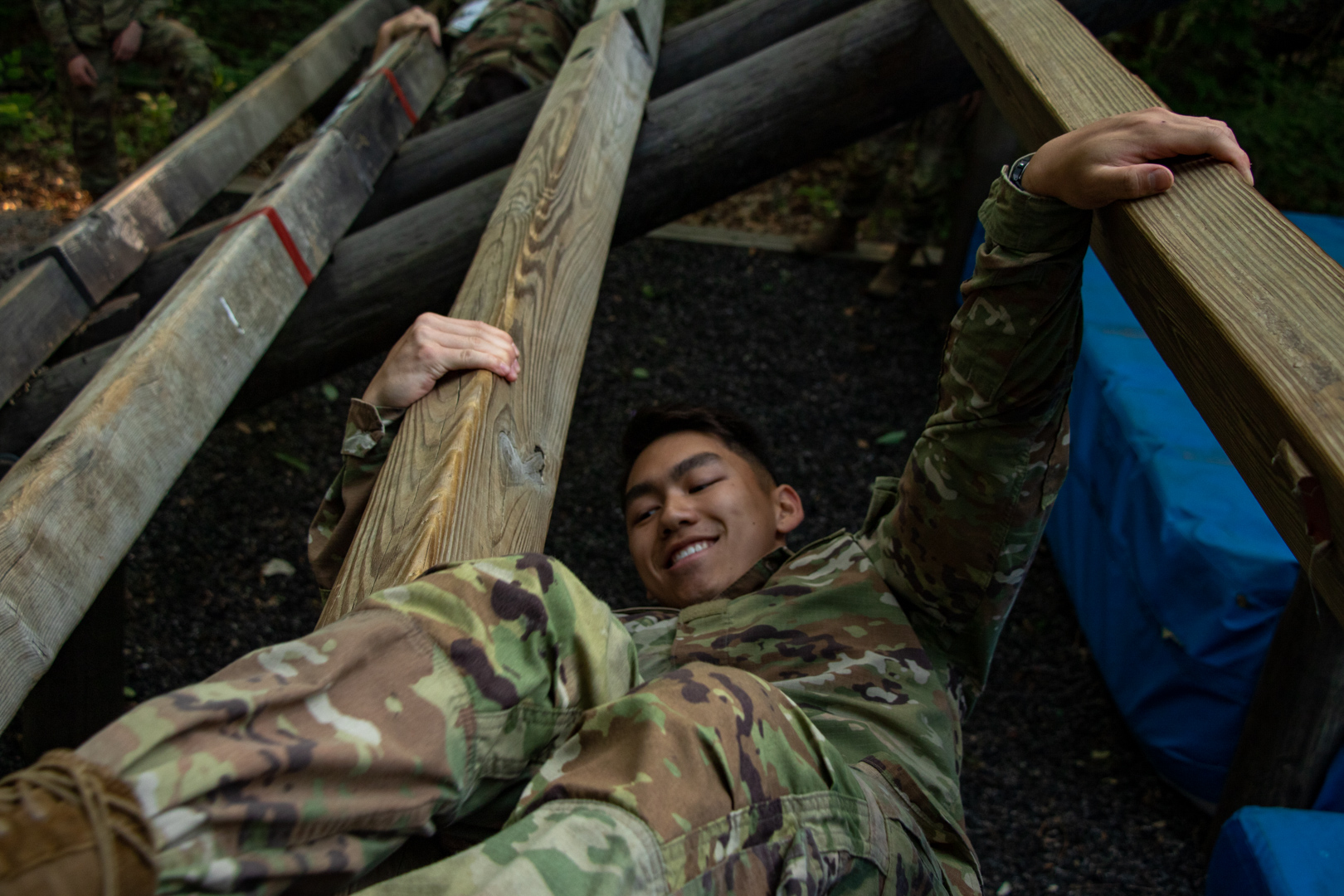 "You need a lot of upper body strength, and I focus more on cardio, so that was a bit tough," Sanchez said. 
Tibert said he felt comfortable with most of the obstacles because this was not his first time training on a confidence course. 
"It's the same as the air assault obstacle course, which [was a] school I attended last summer, so it was all repeat stuff, stuff I had seen before," Tibert said. "It was a good time, me motivating my squad members and myself to go over the obstacles and building your own confidence, as well as our confidence as a team together."
Tibert also emphasized the importance of mental toughness for completing the confidence course.
"The point of that [the confidence climb] is to test your mental ability, see if you can handle something like that," Tibert said. "Mental over physical 90% of the time, I think is what you really have to realize, because if you dig deep, you can find a lot more than you think you have. If you just put your mind to it, you can get it done."
Sanchez said she learned to trust her gear and those around her while on the confidence climb obstacle.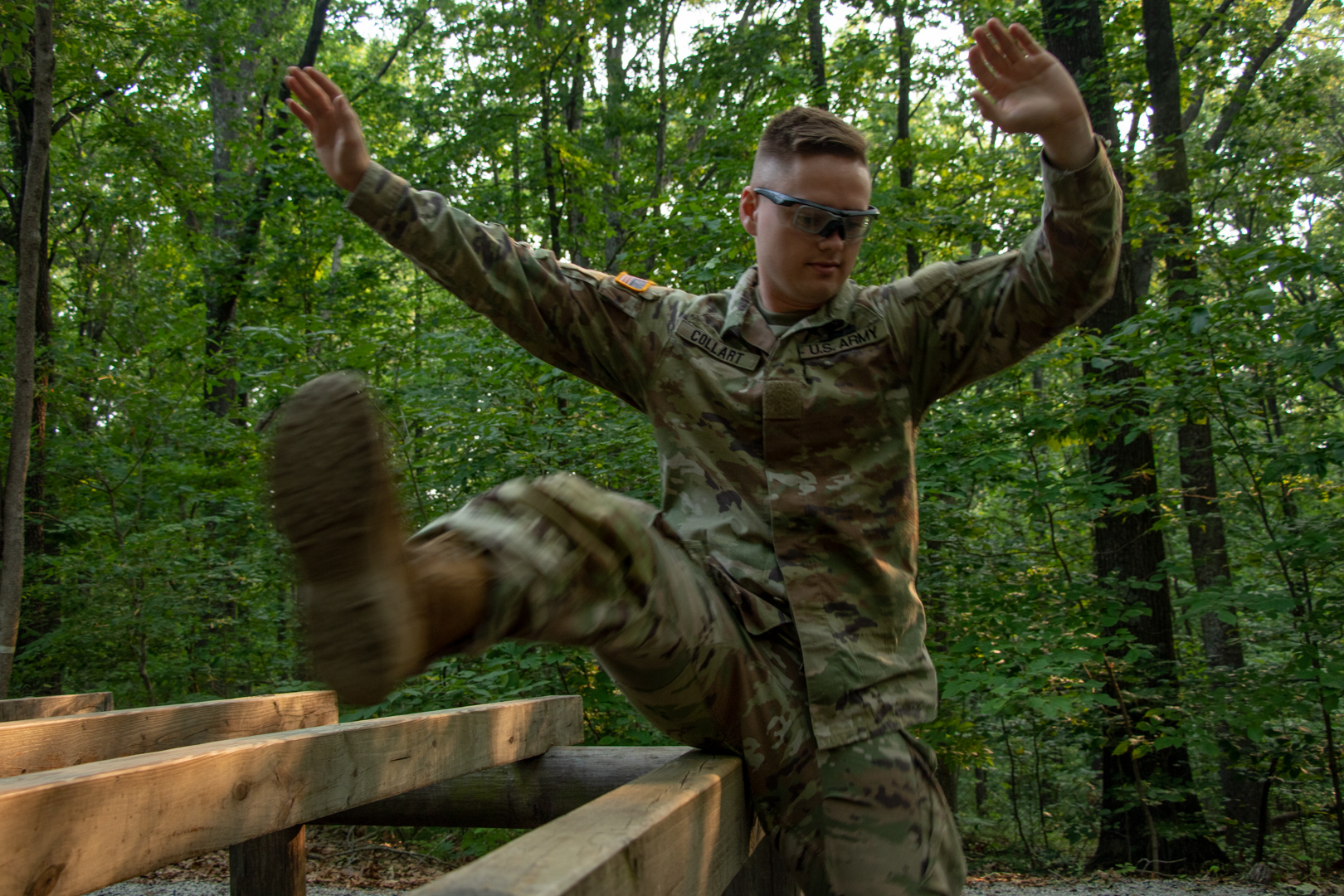 "My favorite obstacle had to be the confidence tower because although that one is hard, you've got to learn how to trust your gear and your battle buddies," Sanchez said. "In my case, it was the safety. He kept telling me that he wasn't going to let go and I had to trust in him, so he helped me accomplish that even though I was pretty nervous." 
For both Cadets, a family member's prior service played a role in their decision to join the Army.
"Well, growing up my dad always told me, 'you should join the military, [they] have a lot of benefits," Sanchez said. "My dad served in his country in El Salvador, so when he came to the U.S. he wanted to, but he wasn't able to."
In addition to her father's service, Sanchez said the opportunity to pay for college motivated her to join. 
"When COVID hit it just became a little bit more difficult with my parents paying for college," Sanchez said. "So as a freshman, I looked for the ROTC [Reserve Officers' Training Corps] program, so my parents wouldn't have that burden on their back to pay for my college, and I just wanted to get that off to them."
Tibert decided to join partially because of his grandfather's prior service.
"I just kind of grew up, my grandfather was in the Army," Tibert said. "He passed away recently, big inspiration, and I enjoyed service when I was younger. I was in the Boy Scouts, and I wanted to continue that, the Army sounded like the way to do it. I wanted to get my education done, so two birds, one stone."
Tibert said he would advise Cadets coming to summer training to keep an open mind. 
"Don't stress yourself out," Tibert said. "That's something, I tend to be someone who over-worries, over-stresses and that five-day reception, where you're just doing admin tasks, it can be really stressful. You're not doing anything, you don't know what's up ahead, you just gotta clear your mind, focus on the task at hand, take it day by day."
Recent Photos
Recent Tweets