FORT KNOX, Ky. – During Cadet Summer Training, the U.S. Army Cadet Command partners with universities to train, educate, develop, and inspire Cadets to commission as officers. These Cadets come from around the world, to the same organizations to reach the same goal – learning how to help others.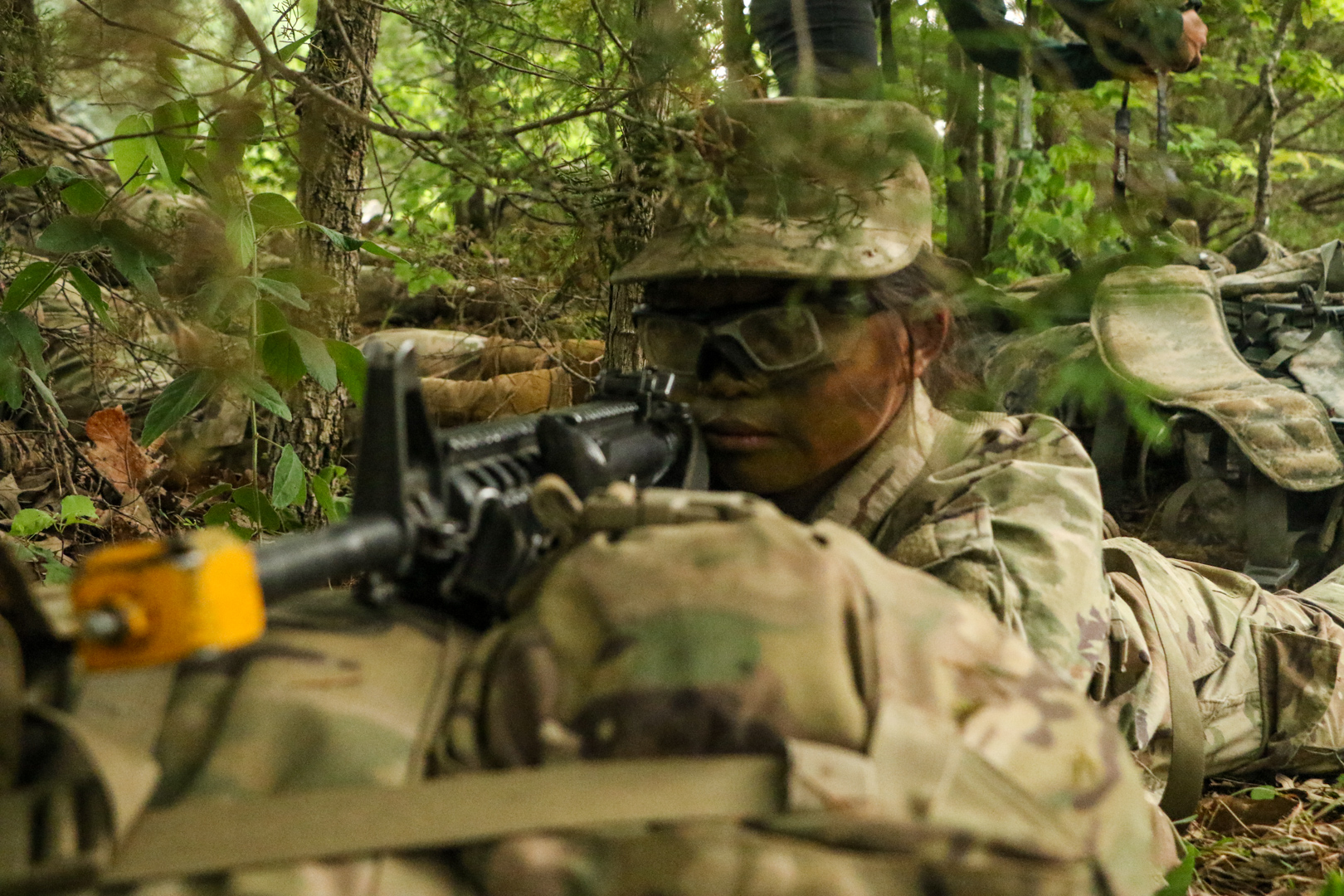 Similarly, while Cadet Zyra Brigette Dew, Carson-Newman University, and Cadet Jeremy Acheampong, Capital University, may both belong to the 6th Regiment, Advanced Camp, they entered CST having experienced different journeys, holding differing cultural influences.
"I was originally born in the Philippines, but then we moved," Dew said. "My family and I moved here when I was in sixth grade, and, from then on, I've been living the American life and the dream. My stepdad adopted me, so I became a naturalized citizen."
While joining Army Reserve Officers' Training Corps. wasn't initially a possibility, after arriving in the United States, Dew became inspired to join.
Like Dew, Acheampong was inspired to join the military.
"I'm from Columbus, Ohio, born and raised. My parents are from Ghana, so that makes me Ghanaian-American," Acheampong said. "They're the reason why I'm here today, and I'm able to continue to strive for what I choose to do in the future."
Motivated to work hard, thanks to his parents. Acheampong sought opportunities to reach the goals he wanted.
"Growing up, you could see the struggle of how much they had to go through to get us where we're at," Acheampong said. "My dad always gave us opportunities. He always pushed us. He would always say, 'There's opportunity out there, but you have to go look for it, and you have to constantly work hard for it because nothing just comes on a plate. Nothing is nothing is free. You have to work for it.'"
The core value of the Army ROTC is to create people of character who can lead and help those around them, so the goal of many, like Acheampong and Dew, is to strive to help others.
"There's so much support that I was like, 'What is the best way to give back,'" Dew said. "[T]o me, the best way to give back is to join the military. The Army has given me so many opportunities, I would like to go into active-duty nursing in the future. I've always really wanted to help people."
Aiding others is not confined to those in the medical field. For some Cadets, helping can be working with technology or regulating security.
"I want to work with the [Department of Defense] using aerial systems, such as unaired, unmanned aerial vehicles for applications like reconnaissance, search, and rescue," Acheampong said. "That's the direction I want to go to continue supporting the warfighter and saving more lives in the field."
No matter what the end goals, every Cadet has their own Army ROTC journey and a reason why they decided to join.
"Before ROTC, I was already in the National Guard. I was already enlisted for about a year," Acheampong said. "My recruiter suggested thinking about ROTC. It never crossed my mind to really be a leader. I think I was afraid of being out there because that wasn't really me at that time, but I gave it a try."
Every Cadet has learned their own lessons during their Army ROTC journey and decided to stay resilient, even when facing obstacles or challenges.
"I have the tendency to really doubt myself, and I feel like I'm a fake all the time," Dew said. "One of the biggest things I've learned is that I am more competent than I think I am. So now, I'm stepping into myself more, really getting out of my shell, and remembering that I am competent, I am confident, and I can do a lot more things."
The obstacles and setbacks that Cadets face are important to guide them to be the best person of character they can be. By facing each challenge head-on, Cadets learn their weaknesses and strengths, and can better utilize their abilities in the future.
"You can map as much as you want in life, but it's not going to be straight," Acheampong said. "The road is not perfect. Some roads that you think you'll end up with some opportunities you thought might not be for you. I've learned that there's something greater for me coming down the road, and all I just got to do is work hard and put myself out there to network. As long as I have the end goal in sight, it doesn't matter which road to take as long as I reached the final destination."
All Cadets can easily achieve the end goal of becoming someone of character, who can lead and help others, if they work hard, learn from their own experiences, and learn from others' experiences.
"Just because I'm weak in these things, doesn't mean I'm useless or not enough, because I still have these things," Dew said. "Don't ever be complacent. There's always something better to strive for because as you drive forward in your life, you find so much more joy rather than if you had stayed still and waited for an opportunity to happen."
By learning and understanding their past, their obstacles, and their influences, no matter where they come from, Cadets can find success when reaching their goals.
"It's okay to not know everything now. If you're not here to push everyone else around you and grow all together, there's no point," Acheampong said. "Put yourself out there. Be more open to talking to people because everyone's here for you. You have to put it to your mind you want to grow; you want to gain something out of this, and you surely will."
Recent Photos
Recent Tweets