FORT KNOX, Ky. – Cadets from the 6th Regiment, Advanced Camp, rotate throughout different training stations in Warrior Skills at Fort Knox, Ky., July 9, 2023.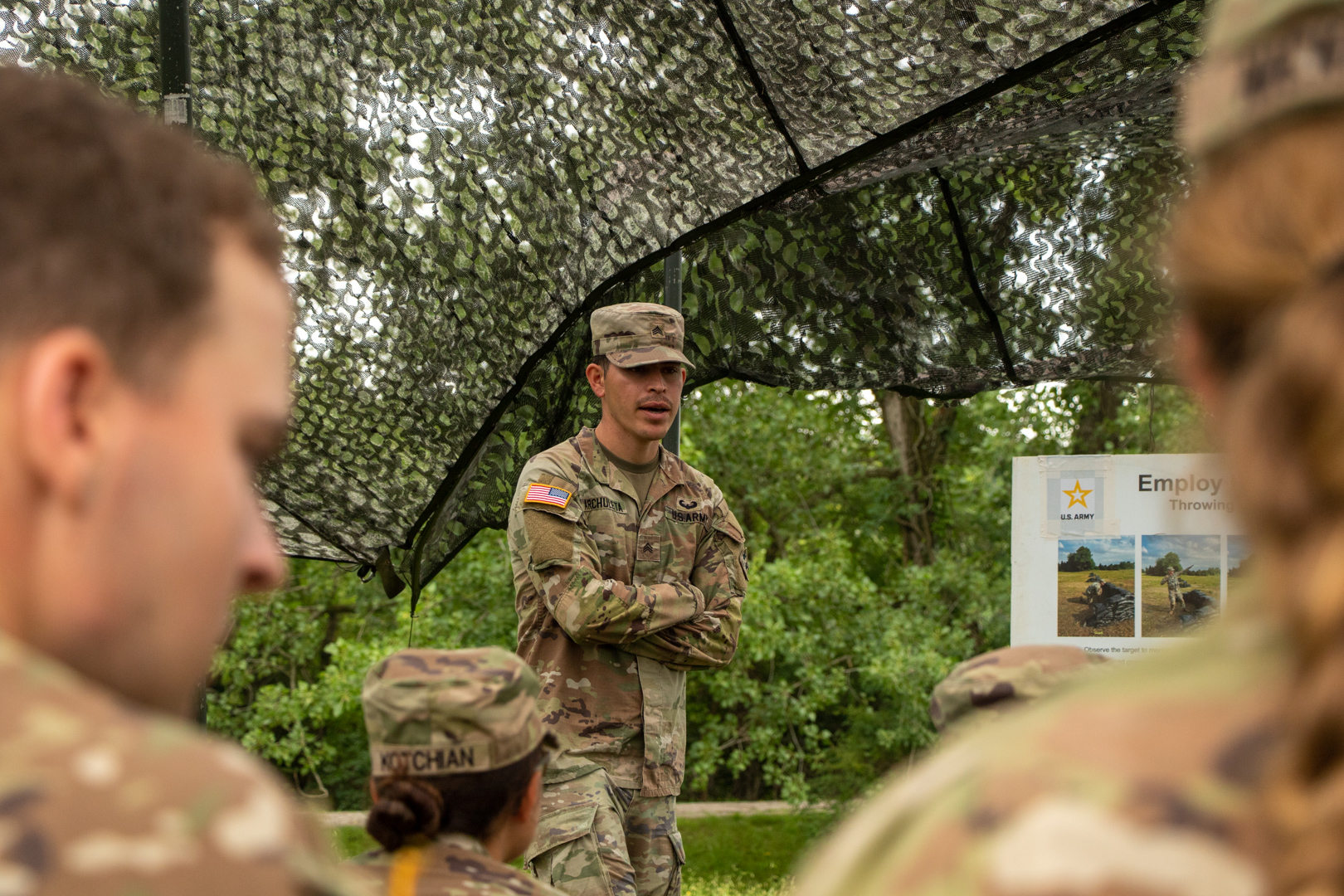 Warrior skills training is an essential part of the Army Reserves Officers' Training Corps program.  It aims to develop the foundational skill and knowledge required for future officers to lead Soldiers effectively in a combat environment. 
Cadet Paul Podias from Auburn University shares his experience during warrior skills training.
"The grenade throwing went great. I learned some skills that I needed some brushing up on, we got some more hands on experience, and familiarization with the weapon system," Podias said. "I think overall it's going to help everybody out or those who may not have had that experience, so I think its beneficial for everybody."
ROTC Cadets come from different universities all over the country, some of which have more experience than others.
"At our school we do the same kind of activities where we have mock grenades that you pull, and you understand the mechanics of it. The issue is you don't have a lot of time or resources so it's difficult to get those hands on [experience]," Podias stated.
Podias wasn't the only Cadet who gained more experience today, Cadet Tyler Mullins, University of Tennessee at Chattanooga shared a similar experience.
"My favorite part was the grenade throw," Mullins said. "It's not something we typically get to do on a regular basis back at our regular programs and these ones actually got to explode so we felt like we were doing some real army things."
Army ROTC Cadet Summer Training plays a crucial role in improving readiness by providing cadets with immersive and intensive training experiences that enhance their tactical skills, knowledge, and leadership abilities. Cadets demonstrate their ability to use their individual experiences to excel at various events.
Podias expressed advice that he would give to future Army Cadets that will attend CST.
"Take everything one day at a time because some days are really long and really boring," Podias said. Some days are fast and fun like this one, so take everything one step at a time and you'll get through it."
Recent Photos
Recent Tweets