Our History & Mission
The Strategic Officer Recruiting Detachment (SORD) promotes diversity and inclusion throughout the Army profession. SORD endeavors to support Houston and Los Angeles by building bridges across the country increasing diversity through localized marketing and daily recruiting and outreach.

SORD promotes a college first approach through Army Reserve Officers' Training Corps (ROTC). SORD educates the community about opportunities, scholarships, and programs to help students create a pathway to a strong future and service to our nation.
Paying for college can be stressful. How we can help!
College
Outreach

Four, three and two year scholarship opportunities.
Monthly stipend.
Text book allowance.

Community outreach to educate about ROTC.
Build partnership with community leaders.
Promote and increase diversity.
Diversity
SORD increases discussion about representation and has created a forum on the importance of officer representation in the United States Army. SORD fully incorporates Patton and Cavazo Interns to provide insight on how the Army is trying to increase representation at all ranks starting in SROTC.
Leadership, Ethics, and Diversity (LEADS) with the SORD is a new initiative with USMA that provides engaging workshops in underprivileged high school communities to showcase Leadership, STEM, Ethics, and increase SAT/ACT preparation for students' future.
Increase SROTC awareness in the Hispanic American (HA) and African American (AA) community through engagements with local schools, meeting with city officials, and informing HA&AA support groups.
Inform and educate on SROTC program incentives through career fairs, individual counseling, and marketing campaigns.
Volunteer in the local community to build trust and validity.
Generate support for SROTC with key mentors, influencers, and family support systems.
Outreach
We actively present and discuss SROTC opportunities both virtually and in person. Meeting one on one, with family, instructors, school and career counselors, and even friends to showcase the benefits of SROTC.
Building professional relationships with educators, coaches, and communities.
Actively participate in National and Regional events and conferences, High School & Semi-Pro Sporting Events, Parent's Night, USD events.
What programs are available across the country?
Click on any school from the map below to see what programs and scholarships are offered.
| | | | |
| --- | --- | --- | --- |
| School Type | School Code | Nursing Programs | Engineering Programs |
| HOST | – | – | – |
---
Scholarships for High School Students
Requirements
Please contact a SORD representative on how this pertains to you.
Be a U.S. citizen.
Be between the ages of 17 and 26.
Have a high school GPA of at least 2.5.
Have a high school diploma or equivalent.
Meet physical standards.
Agree to accept a commission and serve in the Army on Active Duty or in a Reserve Component (Army Reserve or Army National Guard).
---
Your Commitment
An eight-year service commitment with the Army.
Serve full time in the Army for four years and four years with the Individual Ready Reserve (IRR).
Selected Cadets may choose to serve part time in the Army Reserve or Army National Guard while pursuing a civilian career.
Application Deadline
ROTC National Scholarship application submission is open.
Current application round will close January 13, 2023, talk to an ROTC Advisor if you need advice.
Army ROTC National Scholarship Board dates for the School Year 2022-2023:
Review Board 1 – 16 October 2023

Review Board 2 – 22-26 January 2024

Review Board 3 – 18-22 March 2024
---
Apply online for an Army ROTC Four-Year High School Scholarship
If you are applying for a scholarship, you first will need to create a MY GOARMY account. Once you create an account, you will be sent to the MY GOARMY Log In page. Once you can successfully login to MY GOARMY, you can use your newly created account information to login to the scholarship application site.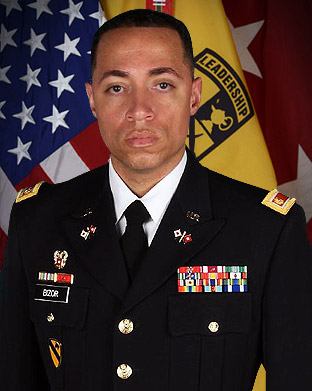 Major Christopher Bizor
---
CHIEF (LA-SORD)
U.S. ARMY CADET COMMAND LOS ANGELES, CA


Contact Information:
Useful Links: