FORT KNOX, Ky. – Basic Camp Cadets from 1st Regiment, were issued their safety vests after they arrived at the Night Infiltration Course at Fort Knox, Ky., July 16, 2023.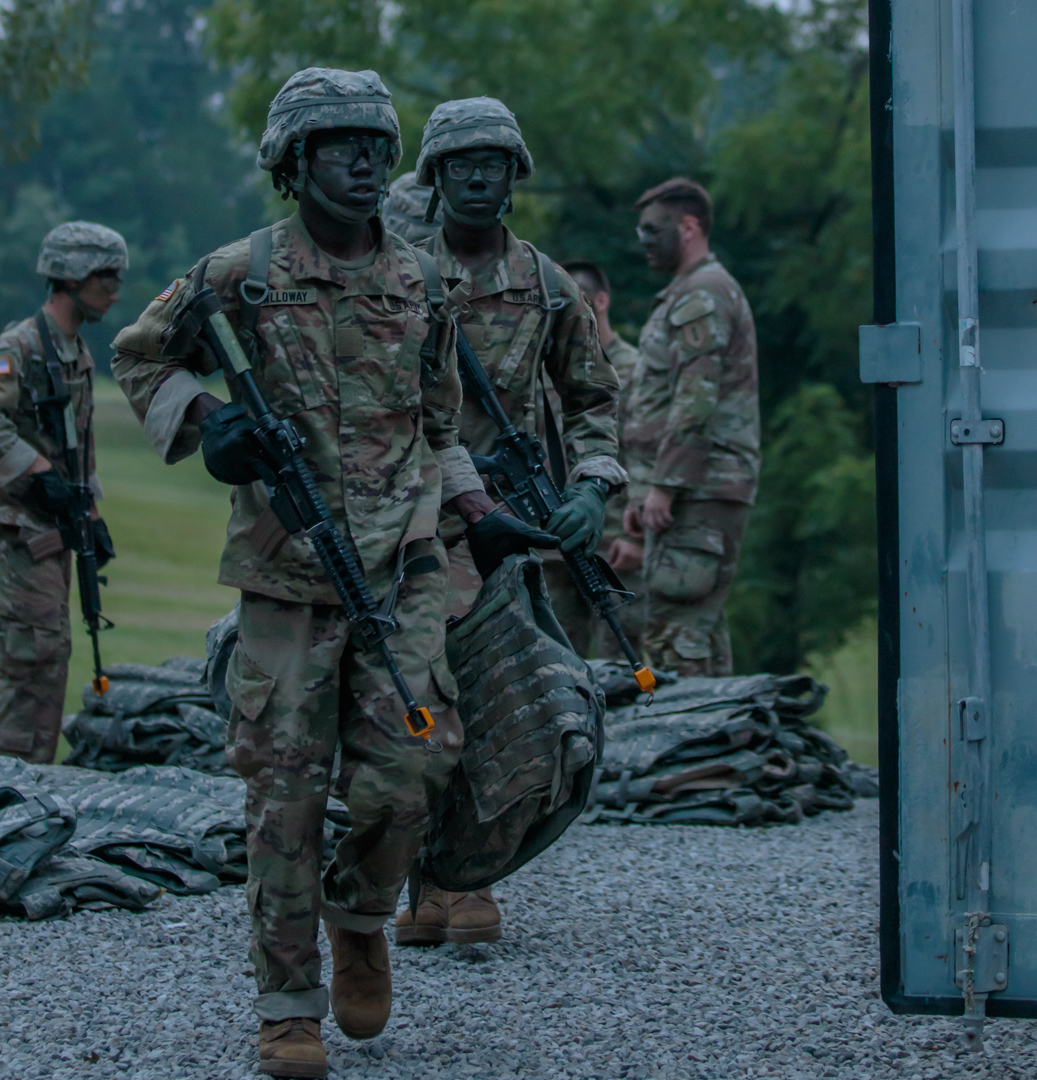 Staff Sgt. Kevin Davelaar, one of the Cadre members who helps run the course, described what the Cadets were about to experience as they waited for further instruction at the bleachers.
"In pure darkness, the Cadets have live machine gunfire over their heads," Davelaar said. "This is about as close as you can get to what you would actually experience in combat."  
Davelaar said NIC was designed to be a mental challenge, or to simulate a stressful environment for Basic Camp Cadets. However, many Cadets focused on the physical aspects of the course.
At NIC, Cadets carry the weight of their safety vests and camel backs, while digging their hands and knees across a sand pit that is the length of a football field.
Cadet Joshua Bauer from Texas A&M University said, "Physically this course if more challenging just because of the aspect of the sand, because the sand has no real grip."
Cadet Anneliese Christie from the University of Hawaii of Manoa described the physical challenges she faced while out on the course.
"I had a heavy chest and backplate on, plus my camel back, which made this harder for me to do as a smaller person," Christie said. "A lot of physical exertion was used just using my elbows and knees to dig into the sand, but you have to push yourself because that's the mission."  
Christie said that although the course physically drained her, NIC has been her favorite training event she has experienced so far during Cadet Summer Training.
"This event was the most real thing we've done here," Christie said. "Listening to a live fire and seeing the flares go up was a really awesome experience that not a lot of people get to do."
Bauer also described his time at NIC as a rewarding experience. He said that his experience at NIC was an experience he was never going to forget, as diving into an assault mission is "what the Army is all about."
"This is one of the coolest experiences I've ever had in my Army career," Bauer said. "1,000's of men before me have gotten to do this, so I now see it as a rite of passage."
Recent Photos
Recent Tweets