FORT KNOX, Ky. – Cadets in the 3rd Regiment, Advanced Camp, trekked in a four-mile march from Logistics Support Area Baker to Schroder Range at Fort Knox, Ky., June 21, 2023. Once Cadets arrived at Schroder Range, Cadre instructed them to shoot for two rounds at pop-up targets. This event is better known as battle march, and shoot.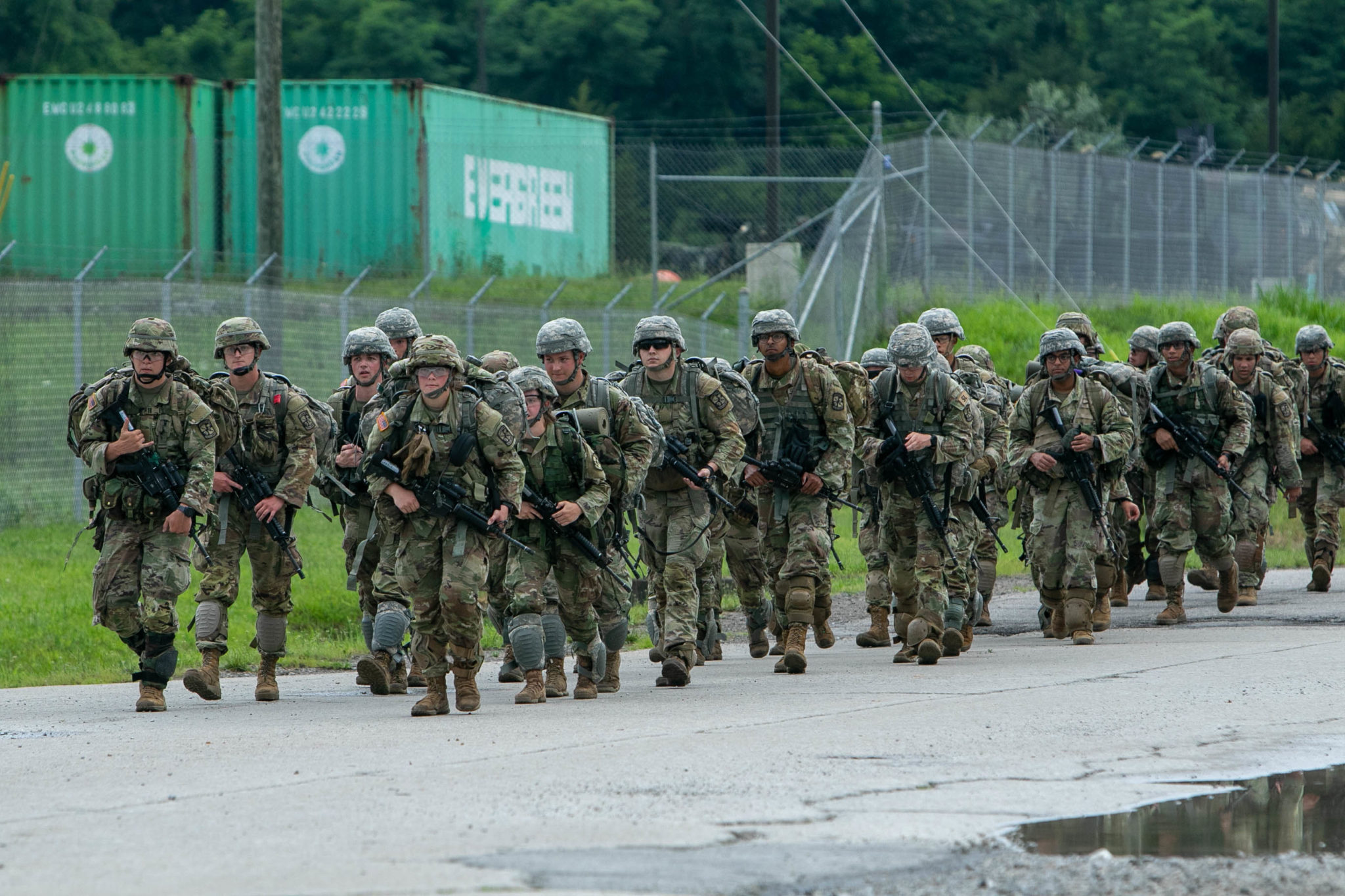 The objective of battle march, and shoot is for Cadets to receive a simulated combat experience. Cadet Kaitlyn Sheridan from Ohio University stated how she felt during the training under such poor weather conditions.
"The road march here was pretty challenging due to the weather," Sheridan said. "It was very hot, and then, having to go straight on to the range was a big adjustment."
The march kept the Cadets' heart rates up as they reached the range, with each platoon setting out in thirty-minute intervals to set the pace of the training.
Cadet Kirstin Bobbitt from Western Kentucky University shared her experience during the heart racing event.
"I really liked doing marksmanship stuff so getting to come out here and qual [qualify], and then, do this battle march, and shoot was really cool," Bobbitt said. "I missed like three shots, so 3 out of 40, I'm okay with that."
The Cadets switch from prone unsupported to prone supported shooting positions during each iteration. Capt. Rafael Vargas Matos, Campbell University, explained that this event is a competition between platoons, and the winner receives a red streamer for their guidon [flag]. 
"The target purpose, is to try to shoot the best you can, so your platoon can get a streamer," said Vargas Matos, Army ROTC Cadre. 
A streamer is a decoration attached to military flags to recognize particular achievements of a military unit.
Cadets are permitted one magazine per round with 20 bullets for each of the two rounds of the competition. This helps the Cadets learn how to shoot under stressful conditions.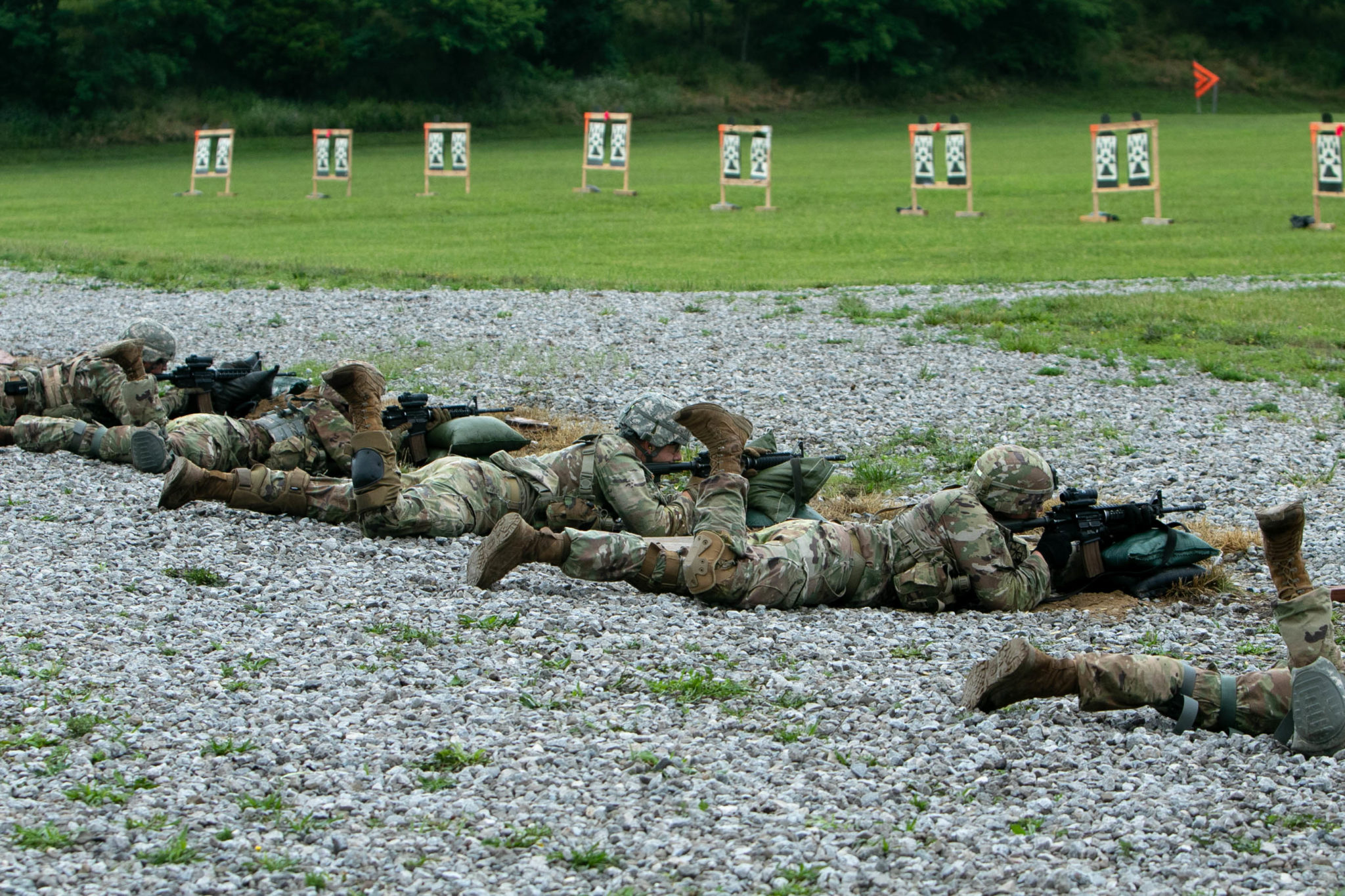 "The Cadets get a big motivation, not for the individual but for the platoon as a team, because here, we are building a team," Vargas Matos said. "And yes, you will lead, you have to learn how to work with your peers, and that only appears when they have leadership."
Bobbitt and Sheridan have similar motivations that led to their joining Reserve Officers' Training Corps and taking part in the 2023 Cadet Summer Training. Their grandfathers heavily influenced their decision to join.
"So both of my grandpas, who are no longer with us, were both in the service and in the Army," Bobbitt said. "So that had a big part of why I joined the Army."
Bobbitt received the National Army ROTC Scholarship, and her brother followed in her footsteps in the pursuit to become an officer.
Sheridan explained that her grandfather inspired her to join the Army.
"My parents are very supportive and very proud of everything I'm doing," Sheridan said. "And I think he [my grandfather] would be proud too."
Recent Photos
Recent Tweets