FORT KNOX, Ky. – The U.S. Army Cadets of 1st Regiment, Advanced Camp, spend the day focusing on enhancing land navigation skills at Fort Knox, Ky., June 10, 2023. Cadets prepared for the graded land navigation exam tomorrow, by first taking the written land navigation exam and after going out in teams of two to familiarize themselves with the terrain of Fort Knox.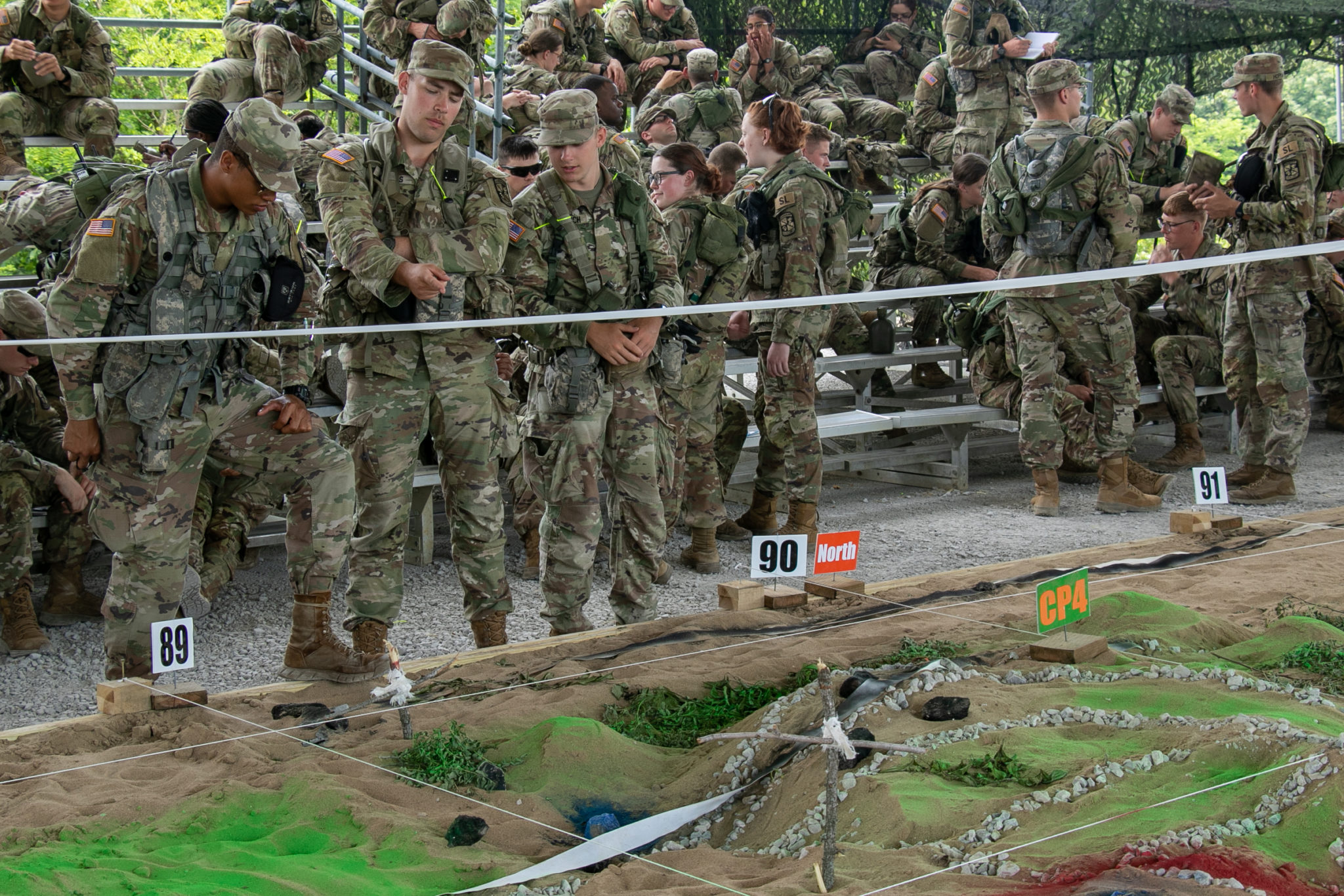 Land navigation is known as one of the more rigorous challenges Cadets face while attending Advanced Camp and is tested in three categories, those being classified as written, day, and night. The written portion consists of 20 questions in a multiple-choice format where Cadets must score 70 percent to pass. During the day, Cadets must go into the woods and find three out of four required points to pass, and during the night, Cadets are expected to find one out of two.
During the day and night land navigation exercises, Cadets must wear a system known as the Home Station Instrumentation Training System that tracks their location at all times, as well as monitors the Cadets voices. For Cadet Ethan Cepluch, student at the University of Mississippi, using one of these systems is brand new to him, but land navigation itself is not.
"At my school, we practice on a land nav [navigation] course a couple times each semester, so I feel really confident in that area," Cepluch said. "Also, thanks to Sgt. 1st Class Detample, our MS3 instructor, we got to work with Fort Knox written tests, so we got a lot of practice doing that portion too."
The knowledge each Cadet possesses varies in every area tested during Advanced Camp. For some, practicing land navigation in Kentucky has brought on completely new challenges.
For Cadet Angela Fini, student at Siena College in Albany, New York, having the extra day of practice to go out into the woods with a partner was extremely beneficial.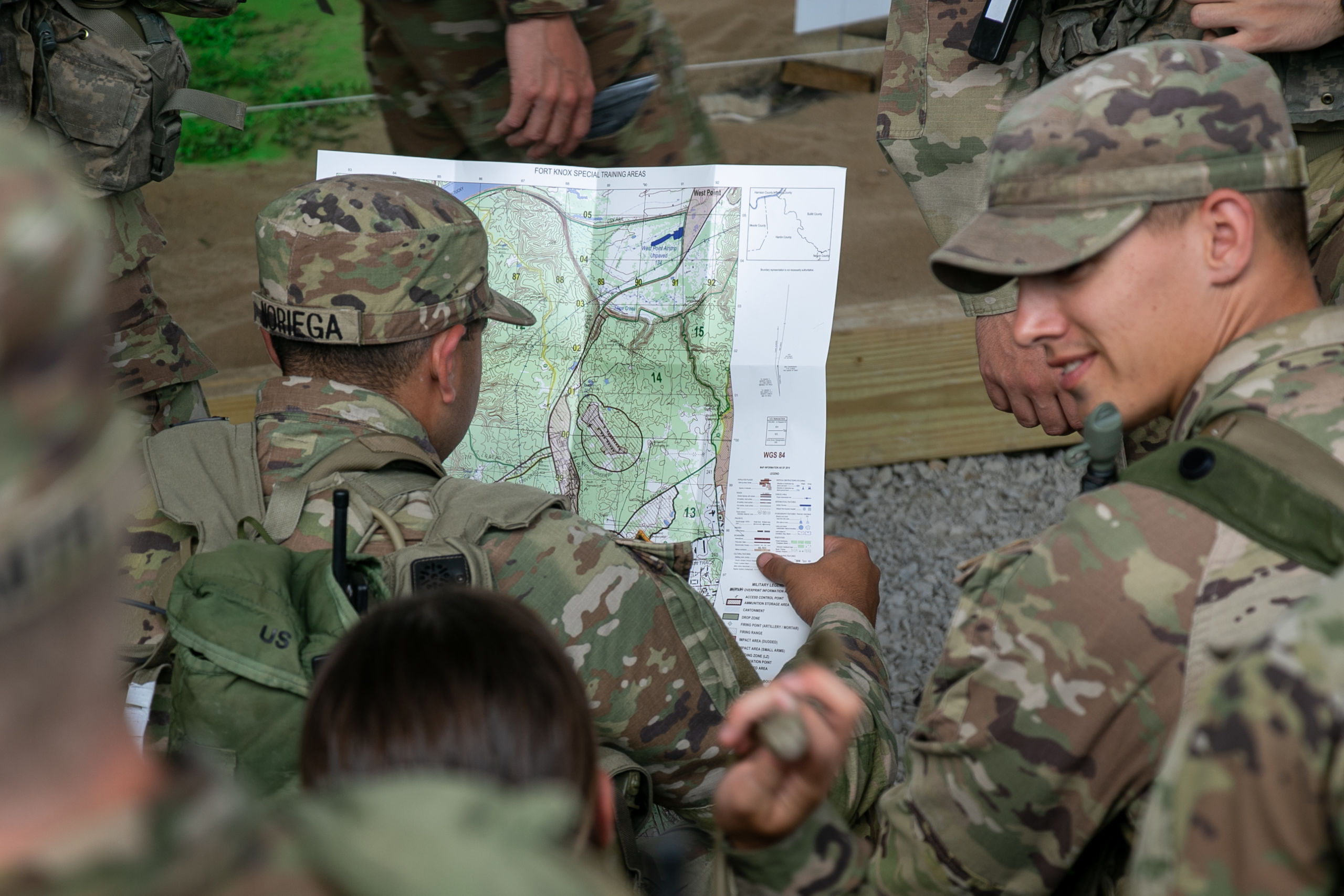 "Being from New York, I'm not well known to any of the terrain here, but I am very excited to get time to orient myself to the area and hopefully, do really well tomorrow," said Fini. "For anyone else who might be struggling, make sure to ask a ton of questions because most of the time everyone is more than willing to help."
Cadets are given four key items to help them succeed during land navigation, which are a map, compass, protractor, and a pencil. Land navigation is an essential task to learn in the Army as getting stranded in unfamiliar territory is always a possibility.
Cadet Zackery Evans, student at Misericordia University, mentioned how knowing land navigation is important for the success of every Soldier.
"In the event that a GPS system goes down, you always need to be able to pull out the necessary tools to get from point A to point B," Evans said. He also mentioned knowing the basic functions of each of the required materials could be a Soldier's only way to safety.
The reasoning behind Cadets being tested on land navigation is not only to test their knowledge on the subject, but also to allow Cadets to use critical thinking skills and determine the best routes to take when plotting points on the map.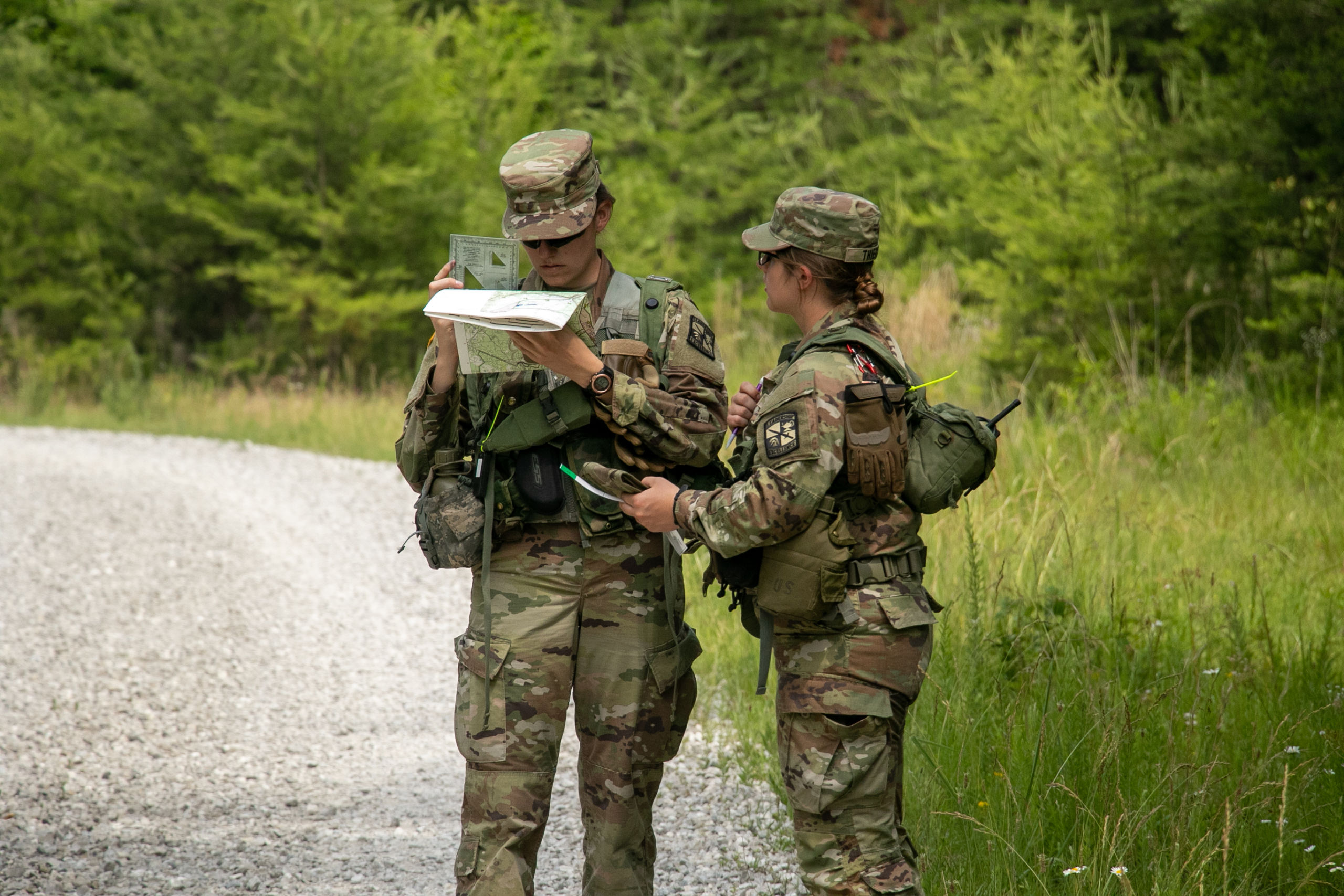 U.S. Army 2nd Lt. Jenna Babcock, one of the proctors for the land navigation written test and recent graduate from the University of Mississippi, talked about how Cadets need to arrive to today and tomorrow's event with a positive mindset.
"They just need to be confident and not so anxious," Babcock said. "That's one of the biggest things is that it's very intimidating being out here, and just having confidence in their skills that they've been taught the past three years will help them succeed."
With today's written land navigation exam and practice round coming to an end, Cadets earned an extra boost to help them in their achievement tomorrow. Land navigation is not meant to be a test strictly on facts but tests Cadets on their mental strength, agility, and time management. This is one of the final stages of the first phase of Advanced Camp, also known as Garrison, that will help them with their abilities during the field training exercises later on.
Recent Photos
Recent Tweets