FORT KNOX, Ky. – Cadets from 1st Regiment, Advanced Camp, completed the situational training exercise at Fort Knox, Ky., June 19, 2023. The importance of the STX is to train Cadets on how to lead a variety of missions with the help of their Cadre members and to get Cadets ready for when they have to lead missions on their own.
Cadets did a raid during the STX, a raid is a form of attack where Cadets come up with a plan using military tactics to destroy the opposing force and their equipment.
Three Cadets talked about their experience in leadership positions during the raid.
Cadet Nathan Nguyen from the University of San Francisco said that he joined the Reserve Officers' Training Corps because of his cousins that were in the military. He said that his cousins were in the Marines and the Air Force, and he looked up to them. He also said that ROTC was a great way to start a career in nursing.
While on these missions, Cadets thought about a lot of things from information that their squad leader gave them to trying to figure out a good place to get eyes on the enemy. Nguyen mentioned what he did as a squad leader to help with the raid. 
"Just having control of your elements [Cadets] at all times. For this element of security, meaning [that] my guys are spaced out more than normally, I would have people on all the way pushed out to the right, some in the middle of, and some sort to the left," Nguyen said. "Even though we're all spaced out a lot, I still had to know where my guys were at all times, try to maintain communication, and make sure I had control over them."
Each minute the rain poured down harder and harder, it was hard for the Cadets to see with the droplets of rain on their eye protection, and the terrain became difficult to walk because there were huge mud puddles everywhere. This can make the morale low, but Nguyen mentioned what he told himself to keep the morale high. 
"This is not the worst it can get, It'll be fine in the end, and we're going to get through this," Nguyen said. 
Nguyen digs deeper into the meaning of, 'This is not the worst it can get, it'll be fine in the end'. 
"That you just have to take a step back from what's going on, take a good look at what is in front of you, and do a full assessment of the situation," Nguyen. "So things are going south as a leader, if you have that poise to be able to step back and make a full assessment of the scenario, then you'll be able to make a good decision based on when you are a squad leader." 
Cadet Reegan Cole from the University of South Florida is a member in the National Guard. Her military occupational specialty is 68W, a combat medic. She is the first person in her family that's in the military. She said she wanted to join ROTC to go to medical school to become a doctor.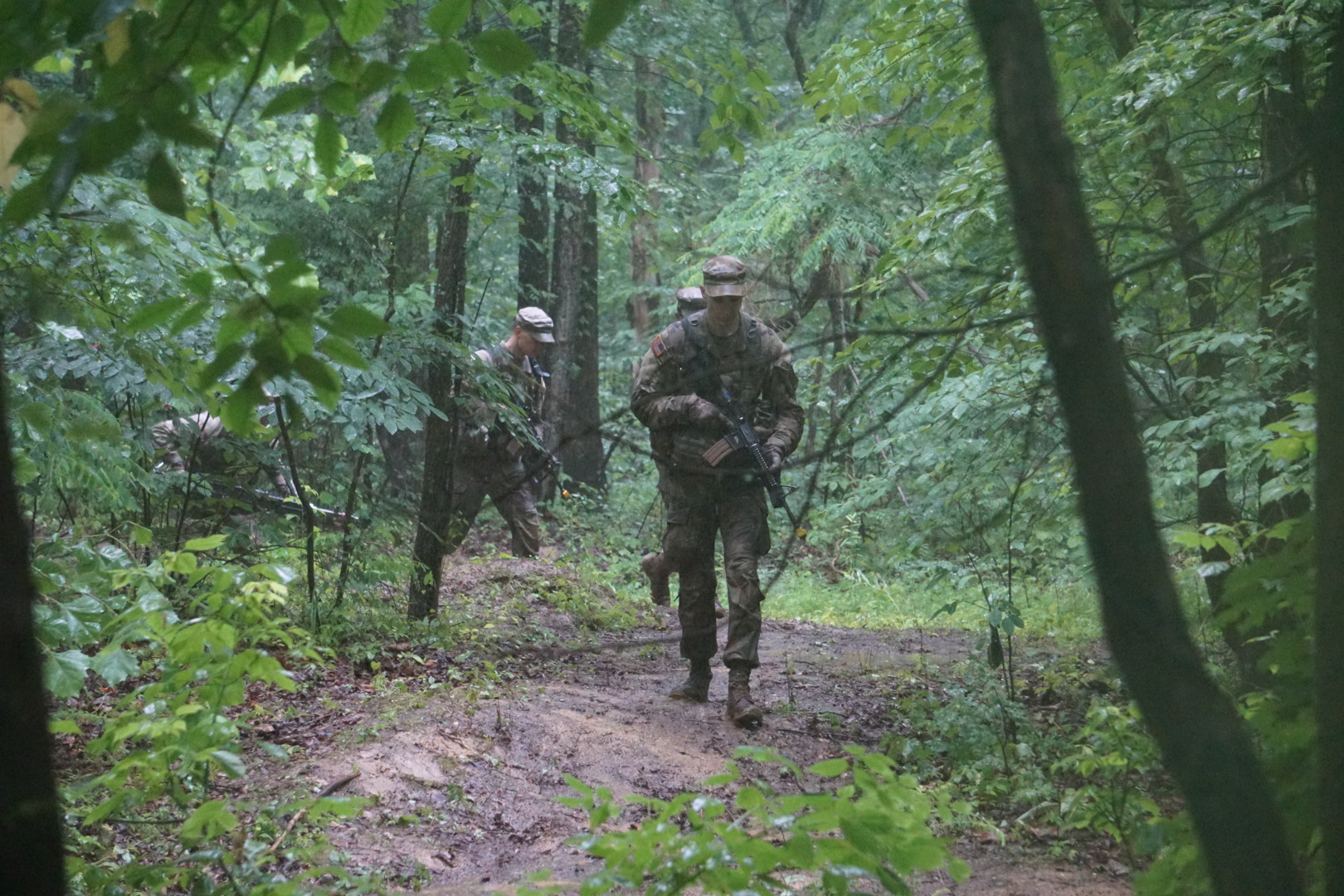 Cadets learn many things about themselves as leaders during these missions. Cole mentioned what she has learned about herself. She said that the raid has taught her the importance of hustle. She also mentioned the balance between rushing and hustling. She said you have to step back and realize that if you rush then it's going to come out bad. 
Cadet Alexander Dale from Longwood University joined because of his grandfather. He said that his grandfather was a pilot for 33 years and inspired him to join. 
Cadets change leadership positions after every mission has been completed. The leadership positions are squad leaders, team leaders, platoon leader, and platoon sergeant. Dale said that he reminds himself to, 'do what you can't,' a quote by Casey Neistat. 
"All the people that were in leadership positions, your heart drops per second. You are like, 'Oh no, now the spotlights on me'. Today I was like, 'I'm going to own this position. This is our raid lane, and the leadership is going to be great'. You have to own your position that you are in for the day,'" Dale said.
Recent Photos
Recent Tweets