FORT KNOX, Ky. – The 2nd Regiment Cadets at Advanced Camp arrived to the preliminary marksmanship instruction range in Fort Knox, Ky., early June 10, 2023 for a refresher course in marksmanship. During PMI, nobody is above the basics of marksmanship. Even the most experienced Cadets must go back to basics and work on their technique.
Before the 2nd Regiment Cadets get released to their stations, the Cadre give a briefing over the four pillars of weapon safety. The instructor explained to the Cadets that the key to a smooth shot is keeping a position that is stable. The instructor also emphasized the importance of side alignment and keeping a firm grip with a resting finger on the trigger.
U.S. Army Spc. Joseph Bolin from 1st Combat Aviation Brigade in Fort Riley, Kan. is one of the PMI instructors supporting Cadets throughout Cadet Summer Training. Bolin's station specializes in barrier fighting positions, kneeling, and standing supported positions. Bolin stressed that the Cadets should carefully listen to the instructors as they give their insight on optimal shooting positions.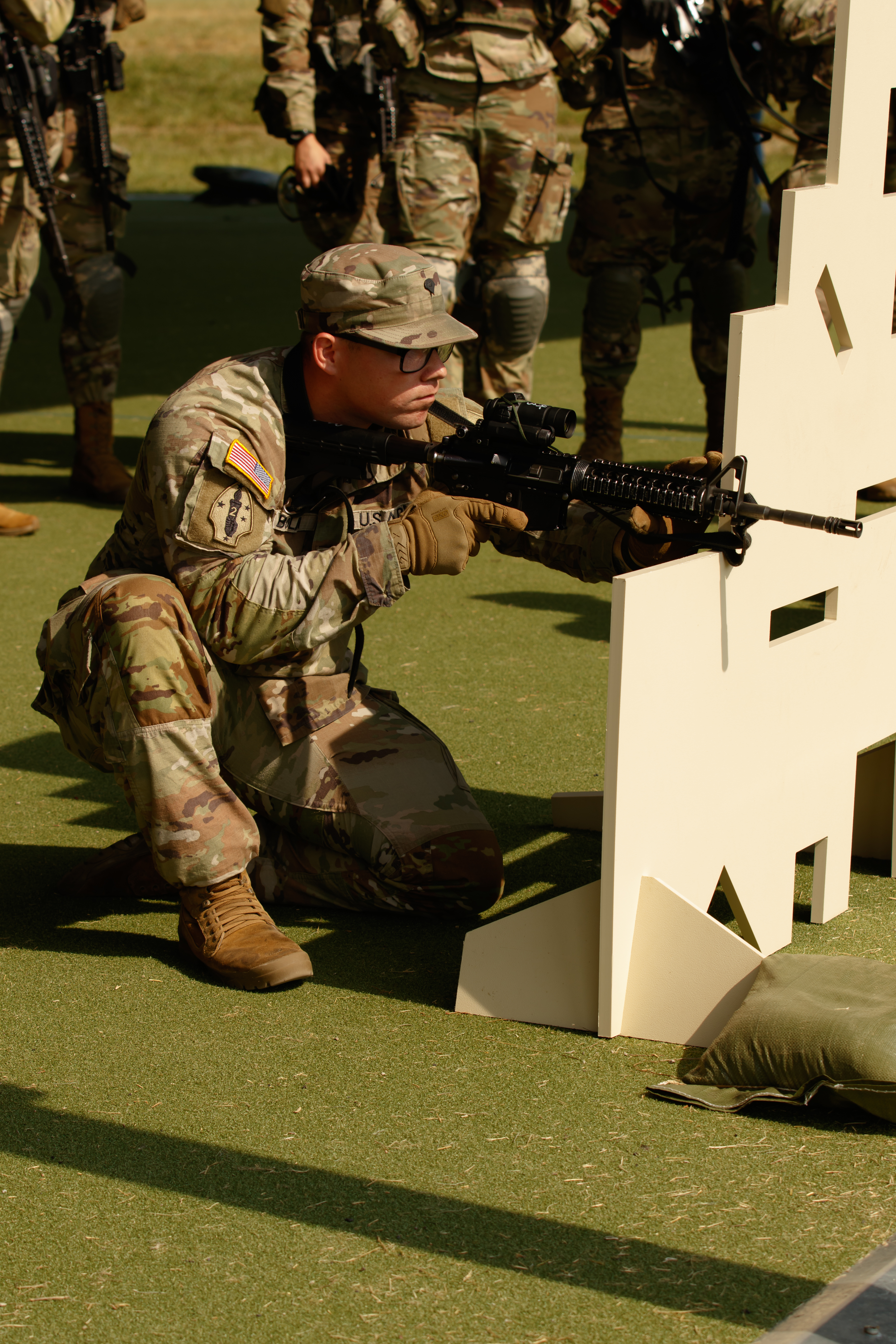 "We're trying to teach them a newer, more stable way of shooting, mostly because these are proven to be stable shooting positions that will get them a higher quality shot," Bolin explained.  
If a Cadet refuses to break the bad habits from the past, they will keep making the same mistakes. Bad habits can make or break a Cadet for the shooting qualification test that occurs later during Advanced Camp.
Cadet Demy Banks from Texas Tech University understands the importance of getting into good habits when given the opportunity to improve her marksmanship skills.
"I've actually never done some of the positions that they're walking us through, so I might incorporate them the next time I'm at the range," said Banks. "One of the habits that I'm going to try to break is trying to use a C or L grip on the barricade."
Similar to the advice Bolin gave, Banks also spoke on good listening skills and the power of patience.
"Keep your ears open! There may be one thing that might help get you from just qualifying to sharpshooter, or that keeps you on the path to recondo [success]. Just be patient," emphasized Banks.
Despite all of this advice, staying aligned and stable is easier said than done. Some shooting positions are more supportive and easier to hold than others. Cadet Hayley Olsen from Florida State University explained that a standing position is less supportive than a kneeling position because a Cadet does not have both legs to lean on when preparing to shoot. Yet, there are ways a Cadet can make PMI training easier for themselves.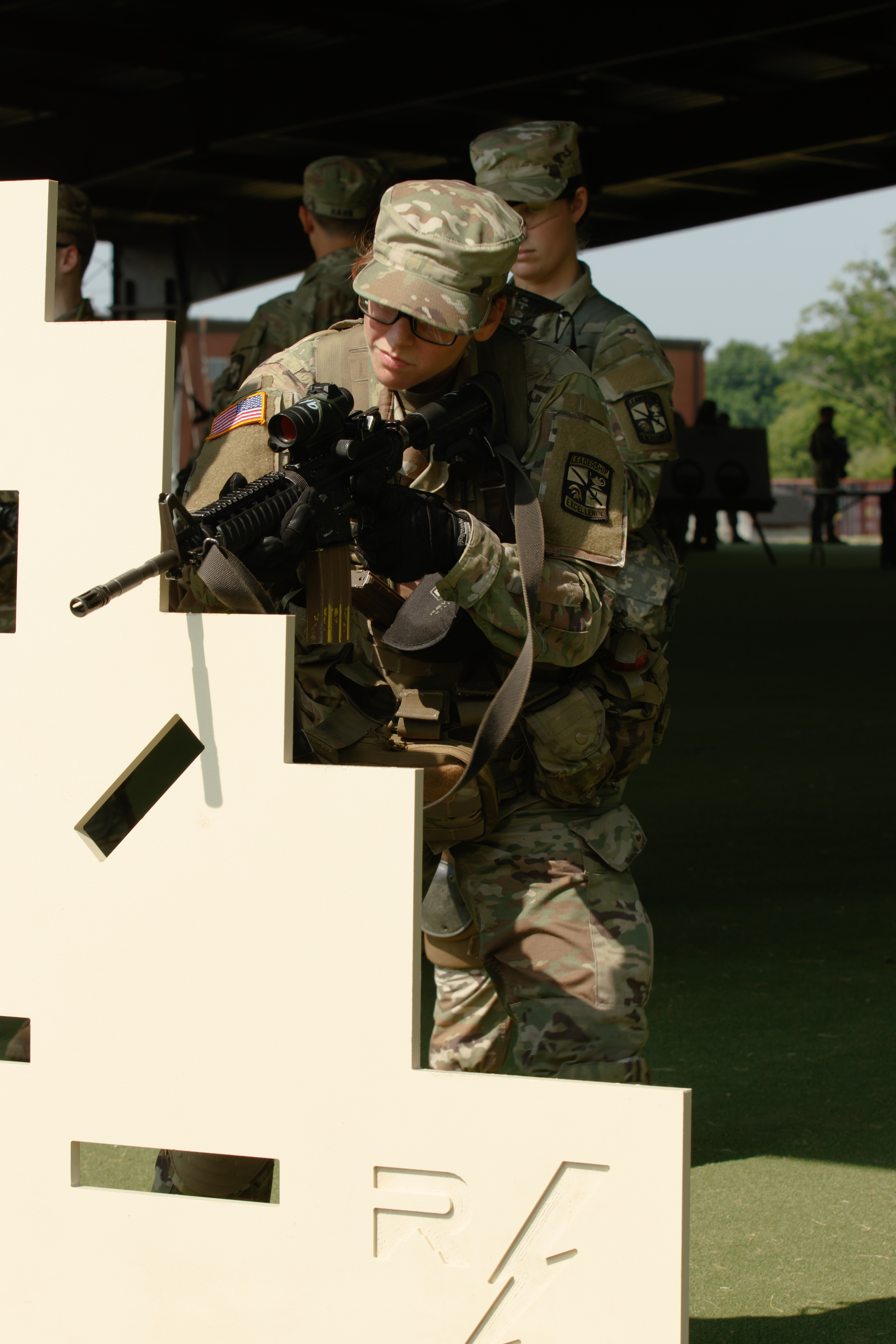 Some cadets described what technique they found to be helpful while training and recommended practicing breathing techniques throughout PMI. Breathing will help Cadets remain calm, especially when they are experiencing difficulties or exhaustion.
Cadets that are on their way to Advanced Camp should be prepared to drop bad habits, listen up, and breathe deeply during PMI this summer.
Recent Photos
Recent Tweets