FORT KNOX Ky. – Cadets from 3rd Regiment, Advanced Camp, engage in chemical, biological, radiological, and nuclear training in Fort Knox, Ky., June 24, 2023.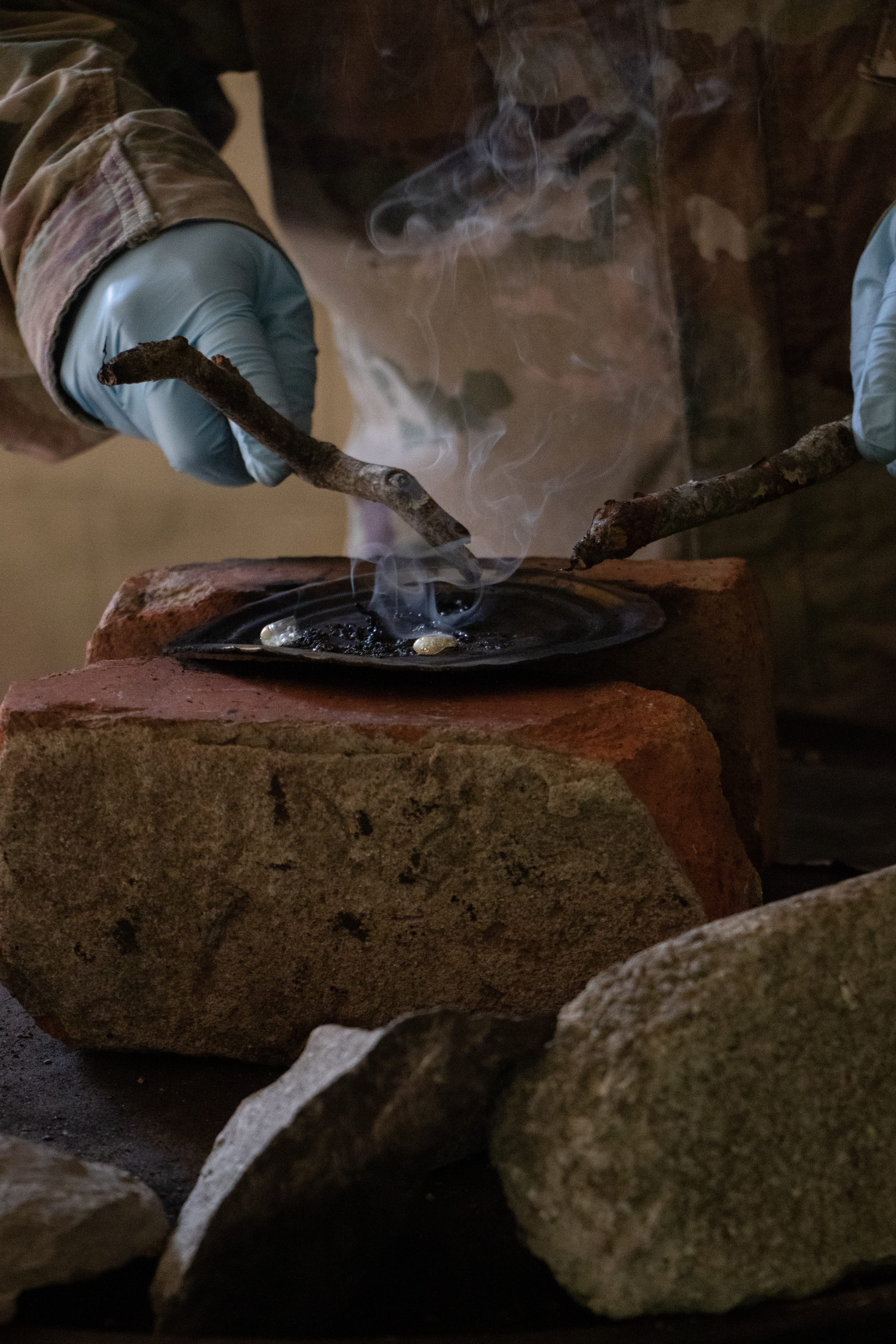 The CBRN chamber is a concrete, enclosed building that creates a simulation for the Cadets to experience using their gas masks against tear gas. The production of the gas is made by burning two chemical-filled capsules inside the chamber.
Prior to entering the gas-filled room, Cadets take in-depth classes learning about the equipment and how to properly apply it. The Cadre also ensures a proper seal of their masks beforehand.
Cadre member 2nd Lt. J. Scott Mischke, University of North Texas, has experienced tear gas once during his basic training and once today with his Cadets.
"The point of this is essentially for them to trust their protective equipment," Mischke said. "They go in there, and they could see that 'Hey, I can breathe in this mask even when I'm looking in all directions, running in place and moving doing stuff.'"
Additionally, the CBRN training allows the Cadets to trust their equipment to know that it works even in tough scenarios. It is also a confidence booster after tackling the gas.
Cadet Andrew Bruening, New Mexico Military Institute, went into the gas chamber despite his initial feelings of doubt.
"I was fumbling with my mask before we even went inside," Bruening said. "One of my new best friends, he's like, 'it's going to be okay,' and he kept telling me this the whole time, and I'm like, 'I feel like if I take this off I'm going to die.'"
Despite his disbelieving comments, Bruening came out of the gas chamber safely.
"Coming out, wasn't so fun. It was not being able to open my eyes for me," Bruening said. "Afterwards, it was actually really cool."
Cadet Mary Catherine Flynn, Indiana University and Purdue University, has never experienced the gas chamber before either.
"I was nervous, but that didn't change the fact that we had to do it whether or not we were nervous," Flynn said.
Flynn trusted in her equipment going through the chamber, but she also used this training as a way of bettering herself.
"I challenged myself to be put in an uncomfortable situation and know that I will still be okay," Flynn said. "You have to embrace that it might not be fun, but you got to try it before you can judge it."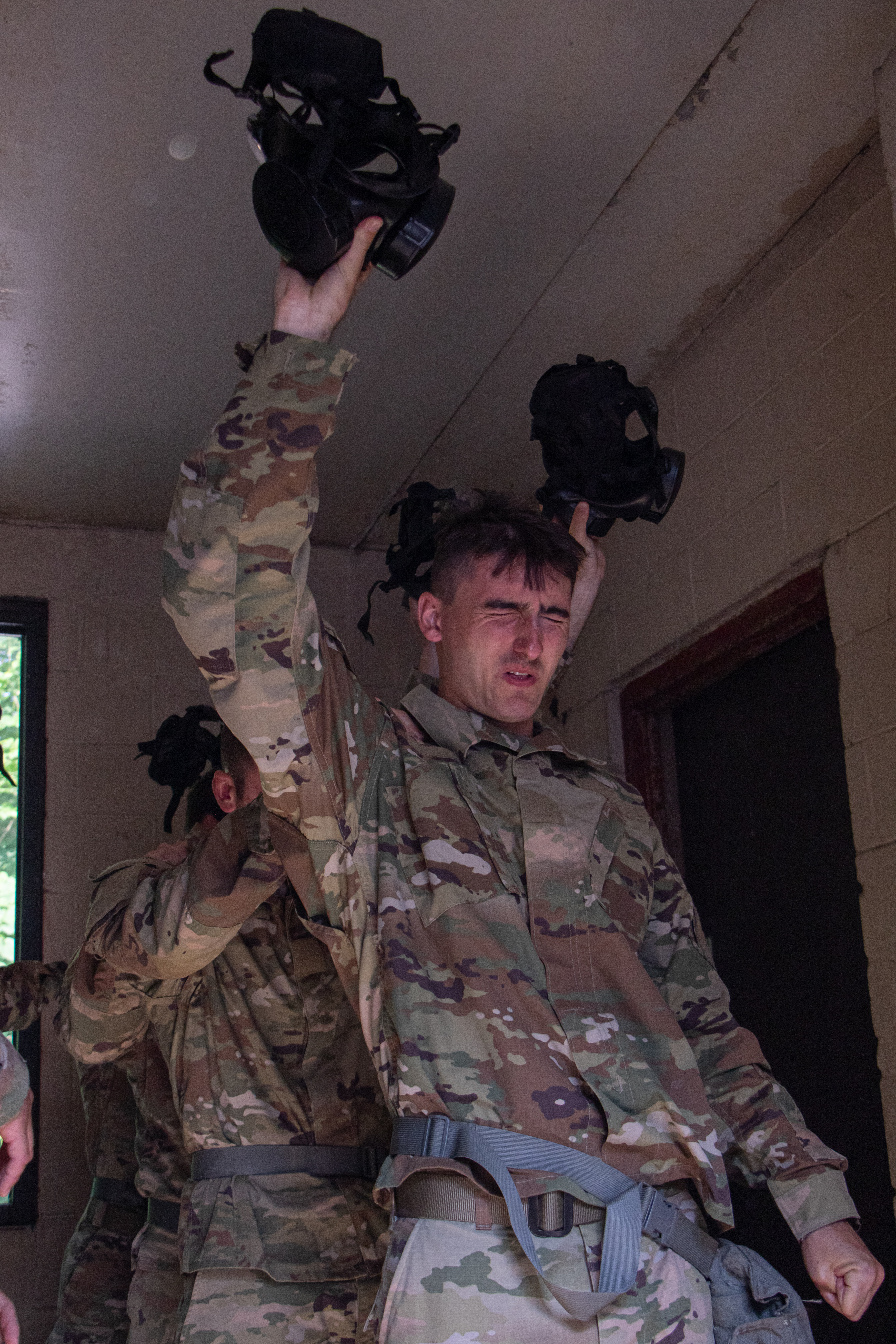 Flynn elaborated that her squad went into the room together, and because they were all really close, it made the experience more enjoyable.
"Everyone says my face looks like a frying pan hit me, and it's super red, but I feel okay," Flynn said.
Aside from trusting the given equipment, both Flynn and Bruening learned from this new nerve-racking training exercise.
"Sometimes, you'll have to do things that make you uncomfortable to grow," Flynn said. "But it's also good to have people around you that you trust and value because they can help pick you up if you are struggling."
Flynn wishes to become a second lieutenant and use what she learns from the uncomfortable situations to determine what type of leader she wants to be.
Alternatively, Bruening now understands the stunning effects gas can have especially during a combat situation.
"I learned why these are war crimes because, I mean, if this is what it's like on a smaller level, it's probably way worse," Bruening said.
Bruening has had a dream of joining the Army since he was six years old. "It's like a lifelong dream finally coming true."
The CBRN chamber can be intimidating, but going into it as a team makes it worth doing. The Cadets from 3rd Regiment will now be challenged during the field training exercise.
Recent Photos
Recent Tweets